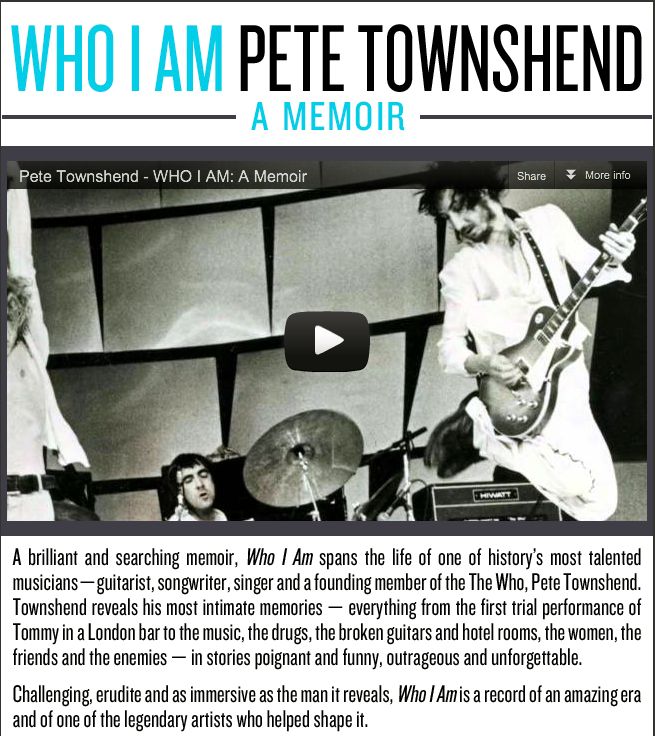 When you look at the truly iconic figures in rock music based on impact, influence, songwriting, musicianship, and outrageous behavior … Pete Townshend of The Who would have to be near the top of any list. Now he is putting his life experiences before, during and after The Who into a memoir. He had previously written a book called 'Horse's Neck' that was an intriguing set of vignettes and autobiographical fiction, establishing his credibility as a writer. That gives me hopes that this new book will be more than just an interesting look back, but rather an insightful and coherent collection of interesting and well-written stories. I would have pre-ordered already … but I have to admit to hoping that we will see a price drop across the board in the coming weeks or months!
Who I Am: A Memoir, the autobiography of The Who's Pete Townshend, is now available for pre-order in the US and UK.

The 400-page hardcover book, which follows Townshend's life from childhood, through the heyday of The Who and into the present, isn't scheduled for publication until October 8 in the US via Harper (October 11 in the UK).
Here is the trailer:
You can get more information and links to UK and hardcover pre-orders at The Who's Facebook page.
You can pre-order the ebook at Amazon.com, Barnes & Noble and iBooks.