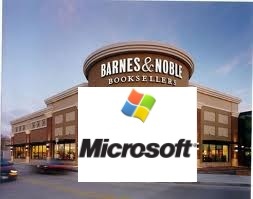 There are surprises, and then there are SURPRISES. Barnes and Noble announcing not long ago that they were seeking to spin-off the NOOK business was a surprise; Microsoft coming in to snap up 17% of the NOOK and B&N College combined company was a SURPRISE. In hindsight, both companies are going to benefit enormously from this partnership, but who could have seen it coming?
Here are the basically details from the press release:
Barnes & Noble and Microsoft Form Strategic Partnership to Advance World-Class Digital Reading Experiences for Consumers
Newly Formed Subsidiary to Include NOOK® Digital and College Businesses

New York, NY and Redmond, WA (April 30, 2012) – Barnes & Noble Inc. (NYSE: BKS) and Microsoft (NASDAQ: MSFT) today announced the formation of a strategic partnership in a new Barnes & Noble subsidiary, which will build upon the history of strong innovation in digital reading technologies from both companies. The partnership will accelerate the transition to e-reading, which is revolutionizing the way people consume, create, share and enjoy digital content.

The new subsidiary, referred to in this release as Newco, will bring together the digital and College businesses of Barnes & Noble. Microsoft will make a $300 million investment in Newco at a post-money valuation of $1.7 billion in exchange for an approximately 17.6% equity stake. Barnes & Noble will own approximately 82.4% of the new subsidiary, which will have an ongoing relationship with the company's retail stores. Barnes & Noble has not yet decided on the name of Newco.

One of the first benefits for customers will be a NOOK application for Windows 8, which will extend the reach of Barnes & Noble's digital bookstore by providing one of the world's largest digital catalogues of e-Books, magazines and newspapers to hundreds of millions of Windows customers in the U.S. and internationally.

The inclusion of Barnes & Noble's College business is an important component of Newco's strategic vision. Through the newly formed Newco, Barnes & Noble's industry leading NOOK Study software will provide students and educators the preeminent technology platform for the distribution and management of digital education materials in the market.
So why is this so exciting? Let's start with the benefit for B&N, since that's a lot clearer. Microsoft has nice deep pockets, and can protect B&N from any price wars with Amazon or any other competitor. In addition, Microsoft has Windows 8. This gives B&N a backup if Android no longer becomes a viable option for the NOOK line. Plus Microsoft is a well-known tech name, and this gives a lot of credence to the NOOK as a digital business. Plus it probably doesn't sit well with Amazon, and that must put a little spring in B&N's step.
As much as this looks like an amazing deal for B&N, it is just as good, if not better, for Microsoft. For a relatively small amount of money, Microsoft has a strong foothold with the #2 ebook company plus a beefed up presence in college bookstores. Apple made a big splash with iBooks 2, but Microsoft and their Windows 8 tablets can be front and center in 630 college bookstores. And with the tie-in to NOOKStudy and the NOOK library, Microsoft could theoretically bundle textbooks, tablets, and software into one affordable, school-store stop. It is going to be hard to break the iPad's momentum, but this gives Microsoft a big leg up in content, and the ready-made leverage and retail presence from both regular bookstores and college ones.
It will be quite a while before we see the fruits of this partnership (and I wonder what they will call it-NOOKSOFT? MicroNOOK?), but I see this as a huge positive. It is a win for both companies, giving B&N some financial breathing room and Microsoft a chance at breaking into the ebook market again. It is an exciting time for ebooks and a very exciting time to be a reader!