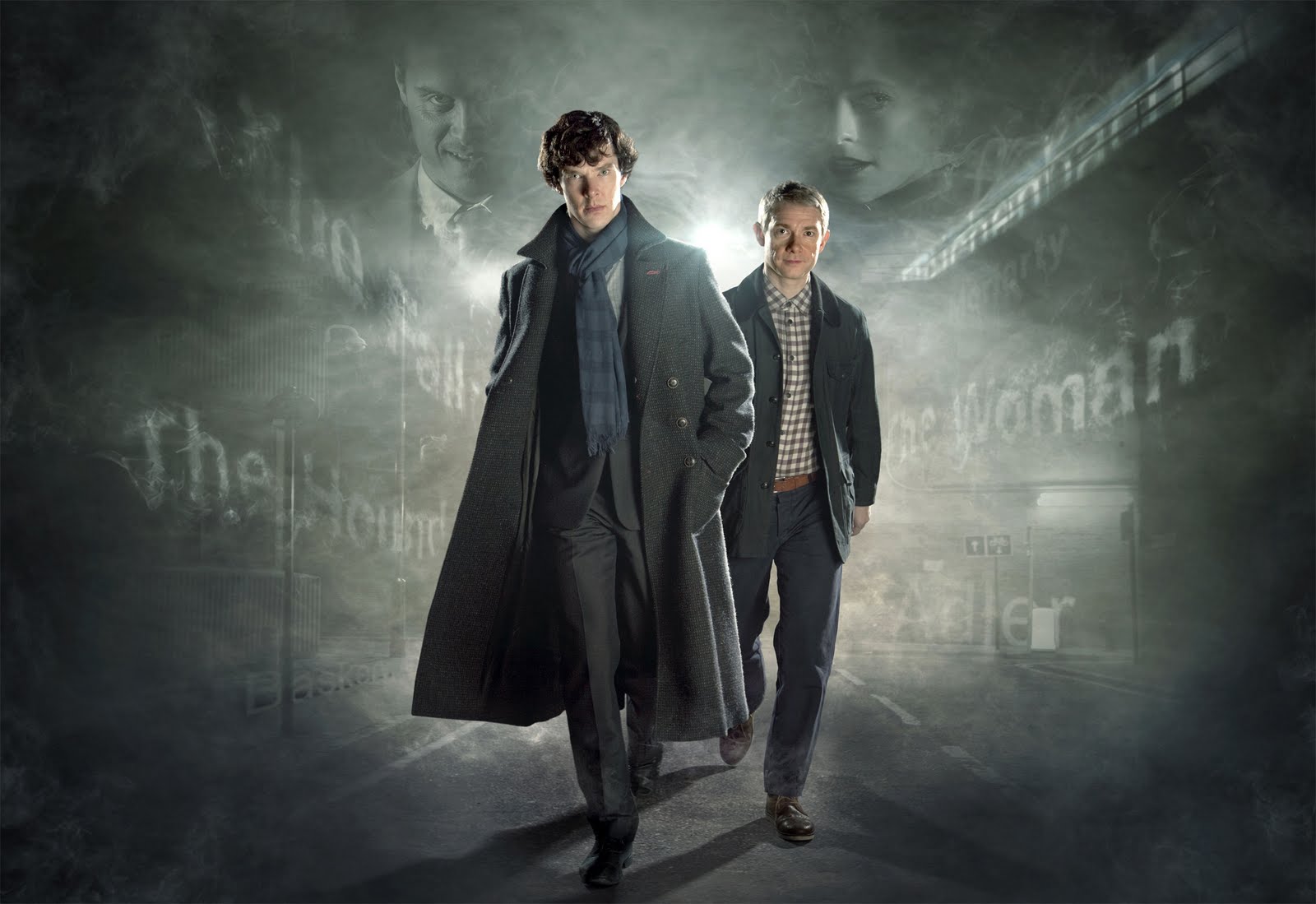 Your typical Sherlock Holmes fan is a strange breed–loving stories written nearly a century and a half ago, at the height of the British Empire, set in Victorian London.  You can find Holmes fans who love the Basil Rathbone films, and those that hate them; those that think the Downey/Jude Law/Guy Ritchie were awesome, and those that think they absolutely sucked; fans that have annotated editions and dig up the old John Gielgud BBC radio adoptions, and those that mix up "Valley of Fear" and "Sign of the Four"; those that think the whole "Mormon thing" in "A Study in Scarlet" was a waste of time, and those who found it fascinating. (I am not a big fan of the Jeremy Brett adaptations, for example.)
But with all that variation, I have yet to find any Holmes fan (or even non-fan) who doesn't love the Beeb's brilliant adaptation and updating of the classic Doyle stories, "Sherlock", to be great.
Moved up from the late 19th to the early 21st Century, Holmes and Watson utilize cell phones, blogs, and other modern tech to solve their crimes.  Benedict Cumberbatch's Holmes is, by far, the best I have ever seen, and Martin Freeman's John Watson very much a more accurate portrayal than many might be used to.  (Watson–a trained Army surgeon, Afghan war veteran, and well-documented ladies man, has almost always been ill-served by adaptations.  Would a man as brilliant and self-sufficient as Sherlock Holmes go out of his way–as he does in many stories–to dig up his old companion if was a bumbling, Nigel Bruce-style boob?)
This Sunday, on PBS stations near you (as well as on iTunes), the U.S. finally gets to (legally) view the second season (or "Series", as they call them in the U.K..) of "Sherlock".  Most of my nerd friends are salivating, as am I.  This season will include creators Mark Gatiss and Steven Moffat's takes on the classic Holmes stories, "A Scandal in Bohemia", "The Hound of the Baskervilles, and "The Final Solution" ("A Scandal in Belgravia", "The Hounds of Baskerville", and "The Reichenbach Fall", respectively).  Clocking in at 1.5 hours, each episode is more like a short movie.  I really can't recommend this show highly enough.
(This means, of course, that Sunday will be just packed.  "Game of Thrones", "Mad Men", and now "Sherlock", all three big, high-profile productions.  Not to mention "The Simpsons", "Family Guy", Stanley Cup hockey, and God knows what else.  Good thing for iTunes and/or DVRs!)
So what about you?  You a "Sherlock" fan, or do you think ol' Doug's gone round the bend again?  Let us know below!