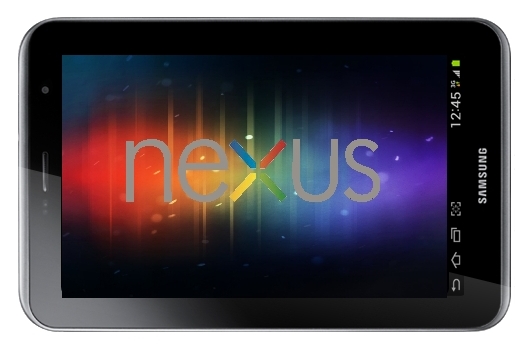 Original Image courtesy of Samsung
I'm not really one to care too much about leaks and non confirmed pre release info, but the Nexus Tablet is something I have been waiting quite a while to get my hands on. Not really knowing much about it yet — except that it will be running truly native Ice Cream Sandwich and sold at a very enticing price — puts it directly on my potential want  need list of tablets. Being a huge fan of the 7″ Android tablet scene, I have not truly been impressed by much after the original Samsung Galaxy Tab. When Asus announced a low-cost  high performance 7″ tablet earlier this year, then possibly scrapped the whole idea in favor of a Google branded device, I was a little disappointed but also excited to hear that focus would be directed at the first Nexus Tablet.
Slashgear found some pretty convincing information that the Nexus Tablet may be working with Samsung instead of Asus to build Google's first tablet. After all, Samsung and Google have been working pretty closely on the Nexus phones in the past few years. As much as I would like to see Asus put some nice hardware together, I have zero issues with Samsung picking up where Asus may have left off. A developer released some information after sifting through some released code that may show some insight into the Nexus Tab. Here is a very brief description of what the fabled Nexus Slate may have to offer in terms of hardware:
Exynos 5250 Dual Core CPU
Mali T-604 GPU clocked @ 533MHz (this will by far best all known mobile GPU's to date)
1280 X 800 SAMOLED display
5MP Rear Camera
Native Android 4.X Ice Cream Sandwich
So far, that is what has been uncovered and it all very well may be something else altogether. It's not much to go on, but we do know that Samsung knows how to build a CPU/GPU, and certainly how to do SAMOLED displays right. A low-cost Nexus tablet with an amazing Samsung display and killer graphics is pretty much my idea of the perfect tablet. Add in a bloat free OS, and I'm sold.
As I said I am a huge fan of the 7″ form factor, and I really am looking forward to seeing what is uncovered in the next few months. With the Kindle Fire doing so well and Samsung's latest 7″ model I think the market is coming together quite nicely. Higher performance and a demanding market keep the competition high and prices low.  Although the 7″ Galaxy Tab 2 pretty much does it for me, I will probably wait to see what other goodness Samsung, Asus, and/or Google brings to the market.
Again this is all really speculation, but these figures did indeed come from picking through some official code released by Google and Samsung. I'm pretty confused on how the tables turned from Asus to Samsung but not really all that upset about it. I have no interest in paying for hardware with a horribly subsidized data plan and ties to any carrier at all. Tethering from a phone is just fine by me, as I don't plan needing any additional data than what I already pay for.
Let's hope they don't leave out the simple things like expandable storage, a standard micro USB connector, and some good accessories. Keep you eyes open for more info on the Nexus Tablet. I'm hoping for an early summer release, I can't hold out much longer.
Via Slashgear