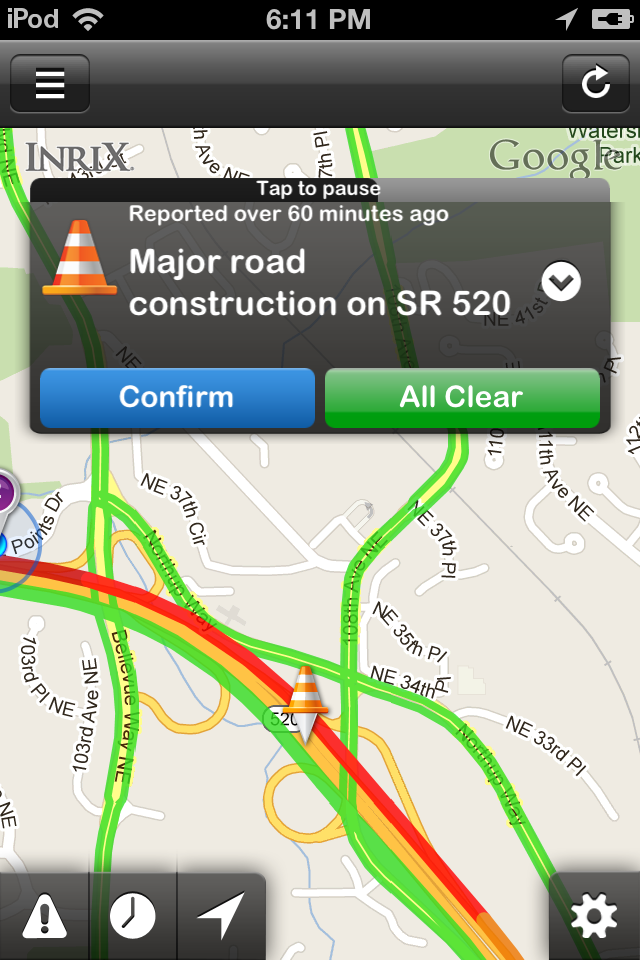 Living in Atlanta, there's one thing I have begrudgingly become accustomed to dealing with — sitting in traffic.    All that wasted time.  All that stress!   Sure, GPS and smartphones with turn-by-turn navigation help — but rarely pick up accident information until it's too late.   That's where INRIX, a leading provider of traffic information, comes in.     Need to know the best time to leave the office to make it across town for that meeting with the CEO?     Don't want to be late for that big date you've spent months planning?   Check out the new iPhone and iPad apps that INRIX has to offer — beginning today!  For Free!!    Let's check it out…
See Geoff Walker, Director of Consumer Marketing for INRIX, show off the features of the new INRIX Traffic App for iPhone & iPad.
INRIX reports that Drivers Idle More Than 40 Hours A Year inAmerica's Ten Worst Traffic Cities and waste over 60 hours annually on the most gridlocked roads in the U.S.    Will the INRIX traffic app really save you time and get you out of traffic — for the price of $0.00 (as in Free)??   It's definitely worth a download.     In fact, a full review of the app will be forthcoming to see how whether it lives up to its promise to help you avoid traffic.
Key functionality from the app includes:
Your Fastest Routes to Home & Work:  Drivers can easily decide which route is the best choice to get around today's traffic. Only INRIX analyzes the impact accidents, sporting events, concerts and other unique local events have on traffic to deliver the fastest routes with the least delay.
Recommended Departure & Travel Times:  The INRIX Traffic Forecast Slider shows drivers the best options for avoiding frustrating delays now and in the future.
Share INRIX Arrival Times:  Easily send your INRIX Arrival Time instantly to any contact with just a few taps.
Personalized Traffic Alerts:  Drivers can uniquely tune their app to only alert them to accidents and other incidents causing delays along their route.
"The innovative time scale will let you slide across different departure times to forecast arrival time.
The new INRIX Traffic App is available today as a free, ad-free download for iPhone; iPad and iPod Touch from the Apple App Store.  To learn more about the INRIX Traffic, visit www.inrixtraffic.com.