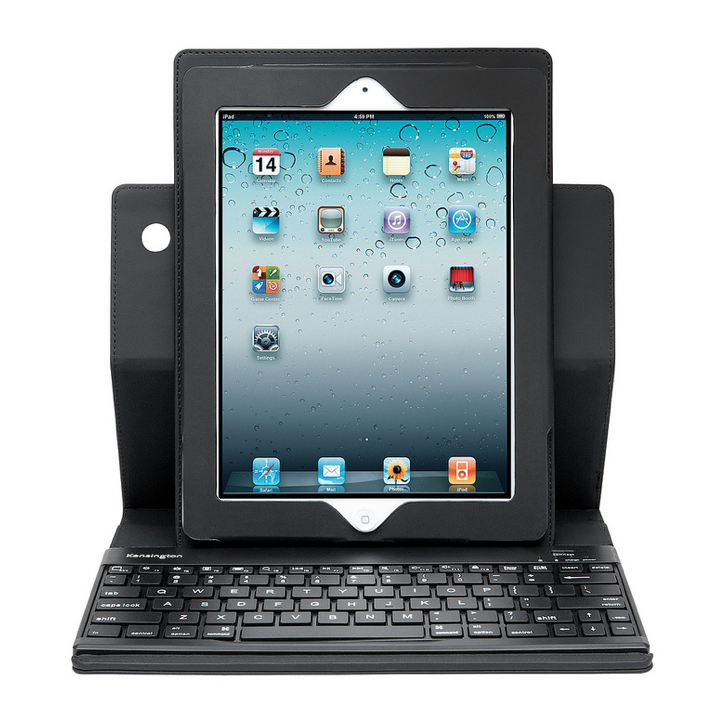 Oh, Father's Day, it's a'comin'.  Personally I don't notice Dad's Day all that much even though I am one. After all  my birthday is only a week or two after Father's Day, so I always tell people to just give me peace and quiet or buy me a mocha or something.  But not every dad's birthday is in June, nor does every dad want shaving cream, aftershave or a tie? What to get for those dads?  Well, Kensington has some thoughts:
Kensington Computer Products Group, a worldwide leader in delivering smart. safe. simple.™  computing accessories, simplifies shopping for the dad or grad in your life with six must-have tech accessories for tablet, smartphone, or laptop. Kensington's clever and budget-friendly companions for personal technology make ideal gifts for work and play.

Kensington KeyFolio™ Pro Keyboard Case for new iPad® & iPad 2 (SKU K39357US; SRP $99.99): Perfect for the on-the-go business dad or recent college grad starting work for the first time, the Kensington KeyFolio™ Pro provides a high-performance keyboard optimized for the touch typist. Built-in Bluetooth technology delivers wireless operation and one button set-up. A multi position stand holds your iPad in place while the rotatable frame offers landscape and portrait use. Optimized for travel and in-case use, this lightweight and compact design protects your iPad from wear and scratches. Camera openings allows for front and back camera use. Compatible with new iPad® & iPad 2.

Kensington AbsolutePower™ Dual USB Wall Charger: Every father and recent student needs a place to recharge when they run out of juice. Power is never far away with two AbsolutePower Dual USB Wall Chargers to charge two tablets, smartphones, and other USB-charged mobile devices simultaneously. Stay connected with the Kensington AbsolutePower™ Dual USB Wall Charger with USB Adapter Cables (K39373US; SRP $34.99). The Kensington AbsolutePower™ Dual USB Wall Charger with 30-pin Apple Cable (K39525US; SRP $34.99) charges iPad®, iPhone®, and iPod® devices. Both chargers incorporate dual 2.1 Amp USB power ports ready to provide full charging support for tablets, smartphones, and other mobile devices. The AC plug removes for storage and travel.

Kensington Word Lock® Portable Combination Lock (K64684US; SRP $27.99): All dads and grads need to protect their laptop from theft while on the go. Protect your laptop and personal information with the Kensington WordLock® Portable Combination Laptop Lock. The push button design offers one hand operation for easy installation while the Kensington T-Bar secures the lock to your laptop. WordLock allows you to set the code with four letter words making it Easier to Set — Never Forget®. The self-coiling cable stretches to 6' to anchor to a desk or fixed structure yet shrinks to 3" for easy packing.

Kensington Aluminum Finish Case for iPhone® 4 & 4S (K39388US Black; K39389US Grey; SRP $24.99): Give dad's or grad's iPhone® some extra protection from bumps and scratches in this lightweight aluminum finish case. The aluminum hard shell case is stylish and protects your iPhone on the move while still allowing easy access to all controls, touchscreen and ports.

Kensington Chaise™ Universal Tablet Stand (K39535WW Black; K39536WW White; SRP $19.99): No tech-enthusiast dad or grad will want to give up comfort or productivity when using their tablet on the go. Enter a simple, mobile, compact and stylish stand to stay productive anywhere. Unlike other complicated and cumbersome multi-unfold designs, the Kensington Chaise Universal Tablet Stand is slim enough for easy travel while providing maximum stability; one flip and it's ready to cradle a tablet even in the tightest spots such as airplane seat or at a cafe table. It also offers stability for uneven and glassy surfaces and works with virtually all popular tablet models.

Kensington Virtuoso™ Mini Collapsible Stylus (K39542WW; SRP $14.99): Give the gift of creating art, annotating files or capturing content on the go to the dad or grad you know. The Virtuoso™ Mini Collapsible Stylus can expand and contract in size, and dock conveniently to your iPhone or iPad for quick access and you never have to worry about losing your stylus again. Navigating apps such as SketchBook, iAnnotate and Penultimate is a breeze with the precision offered by the Virtuoso's touch tip.
As you can see from the title of the post, Kensington is also thinking of the graduates in your life.  So if you have either a grad or a dad– and let's face it, that covers practically everyone– give Kensington's products a look.  And as always, should you pick up something, let us know what you think of it below!