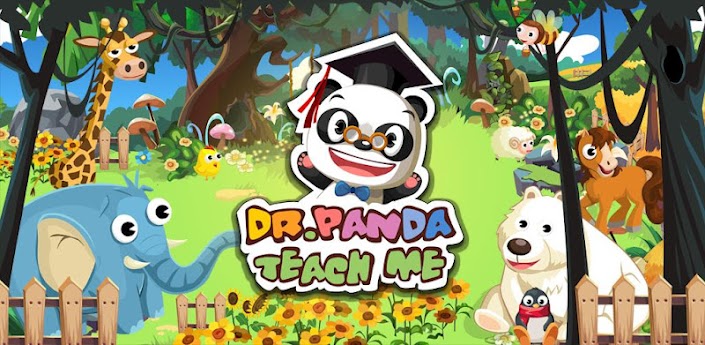 I'm not a big believer in the whole "super baby", "push your kid to learn even in the womb!", "don't waste a precious second of your kid's prime learning years!" method.  But that doesn't mean that I don't think you shouldn't do some good, solid interactive "teaching" with your kids during their wee bitty years.  By no means!  And now, with the portable gizmo age firmly upon us, that means you can use your iPad or iPhone or Android device as an aid.  Like with the Dr. Panda Teach Me! app:
Dr. Panda, Teach Me! Preschool is a multilingual (English, German, Dutch, Japanese and Chinese) educational app for children ages 2 – 5. Children follow Dr. Panda through 4 different landscapes meeting many different animals along the way.  There are many animations for young children to discover and 10 educational mini games featuring skills such as counting, differences, logic, and memory.  When a child completes an activity, they are treated to choose an animal for their own zoo. Dr. Panda, Teach Me! is certified by the kidSAFE(R) Seal Program and comes without any advertisements, pop-ups, external links, notifications and in-app purchases.

Dr. Panda, Teach Me! is unique in its multilingual capability.  Parents enjoy playing with their children in another language to help children learn new things.  Additionally, the number of education elements (10 mini games) provides extended gameplay well beyond other preschool apps.
Already available on iOS and Android, the good folks at TribePlay have ported their app to the Kindle Fire.  Dr. Panda, Teach Me! is available for an MSRP of $1.99.  And of course should you get it, let us know what you think below!