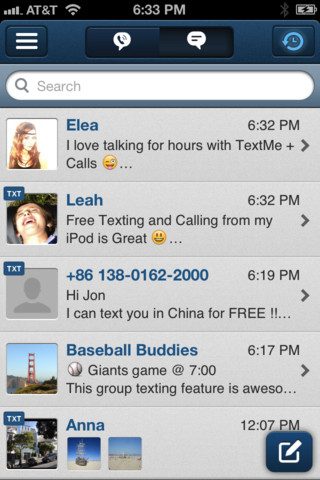 For my IMing needs I use an app (on my iPhone, iPad, and on the Web) called IM+.  It lets me use my various IM accounts in one place–Google Talk, Yahoo Chat, Facebook Chat, and I don't even remember what else.  It's a nice thing to have if you have multiple IM accounts.
But what if you're sick of balancing out Whatsapp, Kik or Pinger for texting, Viber or Skype for calling, or Tango for video chat using a whole bunch of individual apps?  A pain in the tuckus, right?  Well, maybe what you need is TextMe:
TextMe is an easy to use messaging application that allows you to send unlimited text, voice, pics, video messages to any mobile phone number in United States, Canada, Mexico, China and more than 40 countries in the World for FREE. With this new version, you can now also Call any number in the US and Canada for free too ! Also, if your friends install the app as well, you will be able to do a lot more with them (including Video Calls) ! So choose a nickname and a Texting Number and share them with your friends and start texting, calling and video calling ! and Guess what ? It's a free app!

What makes TextMe different? With TextMe you and your friends can:

- Send as many Texts as you want (real SMS) to any number in the US, Canada, Mexico, China and more than 40 countries worldwide FOR FREE
- Call any number in the US and Canada
- Enjoy Free Video Calls to other textme users
- Send and Receive large Pictures, Videos and Voice Messages from iPhone/iTouch/iPad to iPhone/iTouch/iPad
- Receive phone calls on your number and enjoy Free Voicemail
- Share your location in one click
- Enjoy group texting features with text, photos and videos
Of course you probably know what caught my eye:  FREE!  Yup: TextMe is available for free at the iTunes app store.  Surf on over, download it, and check it out.  And please let us know what you think below!