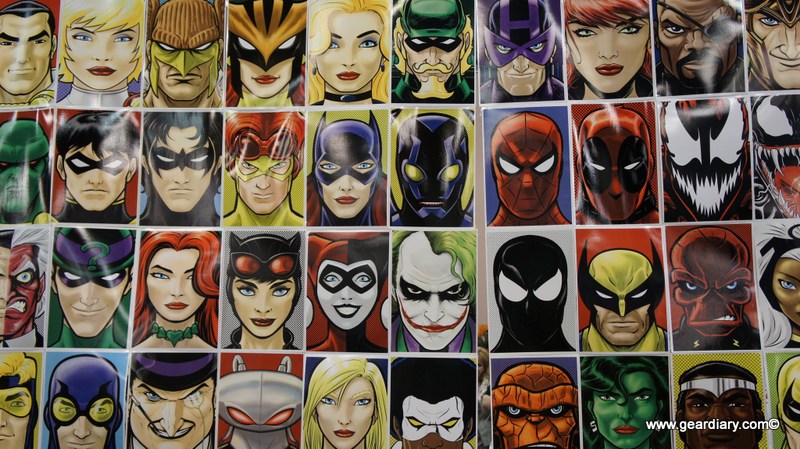 This past weekend Philadelphia hosted Wizard World Comic Con, and I was fortunate enough to attend. I'm not exactly sure why it's called Wizard World, but none the less it's a good time for all Geeks in the Philly with a nice assortment of stars and legends attending. The show ran from Thursday to Sunday at the Pennsylvania Convention Center, and this year seemed to be busting at the seams. There seemed to be almost twice as many people attending, probably due to the barrage of  comic themed blockbuster movies.
One thing I can say about this year is that I saw way less costumed attendees than in the past. Not that I can really talk, since I attend in normal clothing myself, but for some reason there was not as many people dressed in their favorite superhero or character's outfit. As soon as I can get back to the planet Kamino, I will get my Fett outfit and find that Millennium Falcon.
I'll be the first to admit that my pictures are not all that amazing. Thankfully I have a NEX5 which does most of the work for me but still doesn't help me get the right angles and shots. Getting pictures at Comic Con is not easy. You pretty much have to do it on the fly, and most celebrities are behind the iron curtain or have a picture goalie standing in front or putting their arm out to block the shot. (see angry guy in Stan Lee shot below)
Even so, I was able to snap a few of the people who were out, but still could not even see Patrick Stewart, Bill Shatner, or Bruce Campbell. It seems like everyone that did not have an enclosed booth simply was not there as I passed by. That's about all I have for excuses, so here's what I was able to manage.
Lord Vader
Seasoned Stormtrooper
Most of the "Star" Actors were behind closed curtain, so you can be slapped with an additional fee just to get a pic with them. Some you simply had to stand in line or have a nice zoom lens. I reached my goal this year though by getting the autograph of former Marvel President Stan Lee. I managed to get a glimpse of Thor in mortal clothes but only for a split second while he was on his way out the door. William Shatner was nowhere to be found, nor was Mr. Quantum Leap, Scott Bakula. I did manage to catch the Boondock Saints, the Hulk, and a few others.
 Stan Lee. Legend. (notice Mr cell phone and how happy he looks that I'm taking a picture) I got my 100% worth; it's $50 Signature for a from Stan.
Boondock Saints (they should be in every city)
Superman
Buffy. Notice she still wears Silver. 
Shannon Elizabeth. No Jim or Webcams this time. 
Lou Ferrigno. The OG Hulk Smash.
There were  a pretty good amount of vendors set up there as well. You could buy any T-Shirt, Sticker, or trinket for almost any movie, show, or character. On top of that there were thousands of comics and artwork for sale.
It's pretty much a geek Mecca for anyone wanting to walk out of there with any type of superhero or character memorabilia. If you are willing to wait in a few lines and keep a small container of hand sanitizer close by to see one of your favorite stars, then Comic Con should be on your yearly events list.
The Philadelphia show is pretty small, but it's still fun enough to take the day and attend. I had a great time this year at Comic Con, and will certainly be going back again next year. Hopefully I can someday make it out to one of the larger events in Chicago or San Diego, but for now I'm happy with Wizard World and Jason Priestly as the special guest at Philadelphia Wizard World Comic Con.
***Hungry and in Philadelphia?***
As an added bonus, when you go in Philly you get a change to stop in at Reading Terminal Market. In the market you'll find a place called Dinic's serving what could arguably be the world's greatest Italian Beef and Pork Sammiches. There are many places to eat in Reading Terminal, but Dinic's is hands down my all time favorite. You can choose from roast pork or beef brisket and top it off with spinach or broccoli rabe, peppers and some so amazing sharp provolone. Point, is if you are ever in the Philly area and more specifically going to Comic Con, no better way to start out the day with an amazing sammich.
Full Gallery