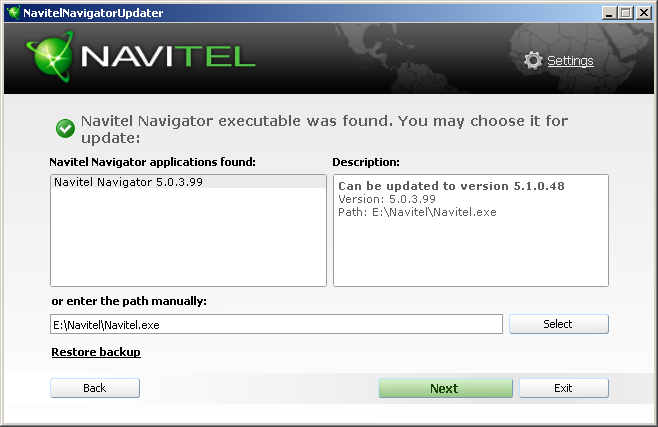 When we bought our Honda Odyssey van in 2000, GPS was juuuuuuust starting to achieve full market penetration.  We got it on our van because–okay, there's just no polite way to say this–Sami gets lost a lot.  She had plenty of reasons–she wasn't a lifelong Bay Area resident; the Bay Area is huge; the Bay Area roadways often don't make a lot of sense (There's a place where you have to take 280 North to actually go south, for example–and it's going west, not north or south!).  So we got GPS in our new van which, at the time, required a giant hard disk be situated underneath the front passenger's seat.  (It would fit on a thumb drive these days.)  All of which is great, except for when it comes to updating the durn thing.  To update, we would have to bring the van in and pay around $200, because they have to swap new components into that giant device under the seat.  Updating sucks!
But you're in luck these days, because updating nav maps can be done, oh, so much easier if you're a Navitel user!
Navitel Update Center – is a free software for updating the latest versions of Navitel Navigator maps and software for PNDs.

Navitel presents new free software for Windows (PC and laptops) Navitel Update Center, which allows users to update Navitel maps and software on PND automatically, just in a couple of clicks!

What is needed from user:

Install Navitel Update Center on your laptop or PC
Connect PND to PC or laptop with Internet access through USB  in Mass Storage mode (modes adjustment can be done in PND settings menu)
Run Navitel Update Center
Follow simple and clear instructions for updating Navitel Navigator navigation software and maps

Maps and software will be updated automatically on PND. Optionally user can choose only software, or only maps updating.
For more information on Navitel, please visit http://www.navitel.su/en/
So if you're a Navitel user, this is probably something you want to check out.  And if you're trying to decide among various GPS apps, perhaps this is a piece of information that helps you make your decision.  Surf on over and check it out.  The Navitel app is available on multiple platforms and is free; the price of the individual maps varies according to region.