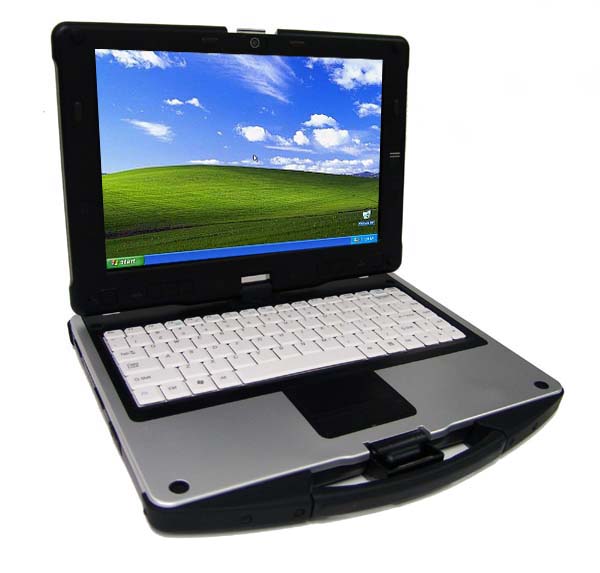 Image courtesy of GammaTech
Last year we were able to get a hands on review of both the GammaTech U12C and the S15C2 ruggedized notebooks and both measured up pretty well to the Durabook name. The newest tablet to the Durabook ruggedized comes by way of a  U12C refresh. The U12Ci is an updated version of the U12C, and comes with a decent list of new features. Most notably, GammaTech swapped out last year's Sandy Bridge internals with Intel's latest Ivy Bridge platform. As usual, the tablet meets or exceeds all current Mil Spec standards for drop, shock , spills, dust, and power protection. The shell is a combination of magnesium and plastic, and comes with the GammaTech standard built-in heavy-duty carrying handle. If you find yourself in the market for a full featured ruggedized convertible tablet, then the U12Ci might be what you are looking for.
Image courtesy of GammaTech
Specs:
CPU: Intel Sandy Bridge or Ivy Bridge i5/ i7
Chipset: HM77 Chipset
Memory: DDR3 SODIMM Ram (Up to 16GB)
Display: 12." WXGA 1280 X 800 resistive touchscreen (optional stylus)
Camera: 1.3mp
Audio: HD Audio, stereo speakers
I/O: SD, Mic In, Audio Out, Express slot, USB 3.0, eSATA, VGA Port, Dock Connector
Wireless: WiFi a/b/g/n,  Bluetooth 2.1+EDR, Express slot for WLAN
Battery: 5000mAH
Dimensions: 12.7″ W x 9.5″ D x 1.51″ H
Weight 5.5lbs
The Durabook U12Ci's ultra-like features such as long battery life and Intel Smart Response Technology in a lightweight, rugged form factor, make an excellent combination for public safety applications where notebook performance and durability is critical," commented Jen Chen, GammaTech president. "The first rugged tablet starting at less than $1,000, the U12Ci gives public safety access to the latest technology while being sensitive to today's budgetary constraints.
Image courtesy of GammaTech
I am quite familiar with ruggedized laptops and hardware due to my job in the military. Soldiers beat up equipment worse than any other profession that I have seen. The Durabook is not too big and bulky but protects extremely well in all the normal weak areas. The optional anti glare screen works really well outdoors in direct sunlight as well as the pen input, even on a resistive screen. I really enjoyed using the U12C during last year's review and can only imagine with more horsepower under the hood the U12Ci is a worthy successor. Using it in either tablet or laptop mode proves it to be very versatile and portable, and extremely weather and damage resistant. For nearly half the price of most of their competitors, GammaTech Durabooks are really a no brainer.
Although not much has changed on the outside of the U12Ci, the new chipset offers a whole lot more performance and battery life over the Sandy Bridge model. Most of the time when I get my hands on rugged laptops and tablets, they  quickly show their age with older hardware that is usually a generation or two behind. The U12Ci offers the latest in ruggedized hardware with an attractive price to match. The U12Ci starts in at $1000 with base options as well as the GammaTech standard 2 year warranty. The U12Ci is not quite ready for battle as of yet, but at the time of this writing there is a "coming soon" banner on their site.
View the U12Ci brochure 
Price will Start at $1000
Coming Soon to Gammatech USA or an Authorized Reseller