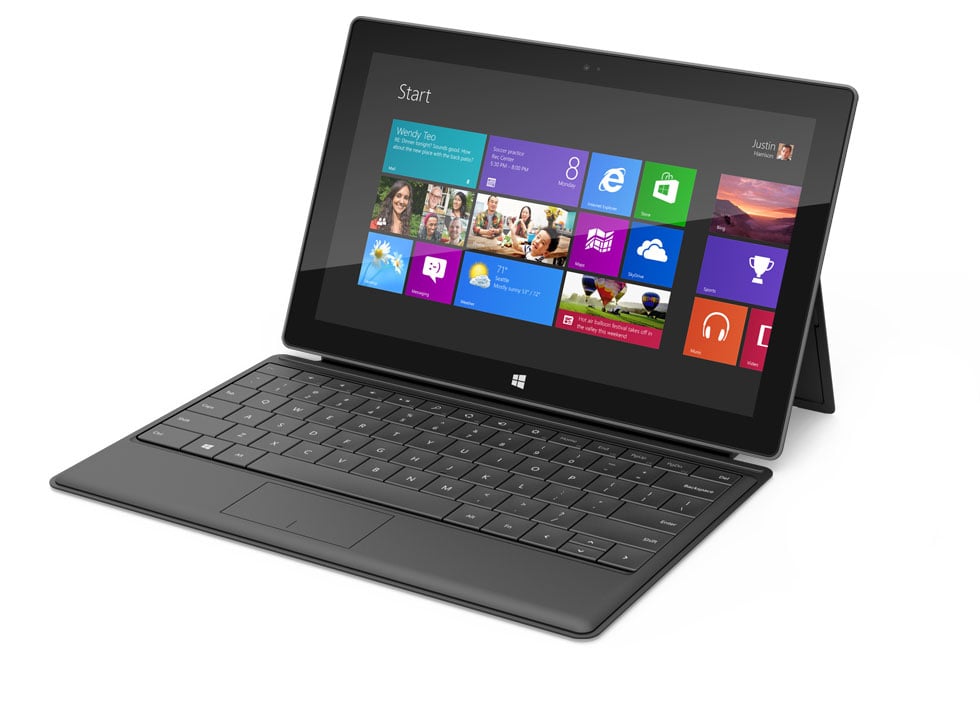 Image courtesy of Microsoft
It's been some time since Microsoft came out with a decent piece of hardware. Short of the Xbox and Kinect I think the hardware team has been sinking to the lower end of the giant's revenue stream. Well, after seeing highlights from today's live event, I think that is about to change. Today Microsoft announced the Surface tablet. The tablet is 100% designed and built by Microsoft's team. Meaning this is not just a partner's tablet combined with a Windows OS, it's the total package. And it looks, from first glance, like they learned from everyone else's mistakes and did this one right. I have not been too excited by a tablet in a long time, but something that looks this nice and carries a full-featured desktop OS….I may be rethinking my laptop and tablet options.
Image courtesy of Microsoft
The surface tablet may not seem like to big of a deal to most but, for those like me looking for a super portable device with a full running OS, it may be the answer we're looking for. Microsoft boasted that every single square millimeter was thought out during the creation of this tablet. From the materials used to every square inch of space in the 9.3mm thick tablet, this was carefully planned and integrated. The tablet has a full magnesium case and a gorilla glass screen. This potentially lets customers avoid having to buy cases and screen protectors to keep the bumps and scrapes to a minimum. Probably though, the one thing that stood out above all the other features, is the 3mm magnetic cover. Similar to their Apple counterpart, it is an extremely thin magentic glass cover, but this one is a complete touch sensitive keyboard and multi touch trackpad. I 'm not a fan of these types of covers but this is simply a must-have.
Known Specs:
10.6″ Gorilla glass covered display
9.3mm thick and 1.5lbs, 13.5mm Pro version
Intel Mobile CPU (less power-hungry than current i5) or ARM mobile based CPU
Magnesium casing w/ built-in kickstand, perimeter vented so you never cover it up
Full size USB 2.0 port. USB 3.0 for Pro, Display Port
32GB or 64GB built-in memory, 64GB or 128GB for Pro Version
Micro SD, Micro SDXC  for Pro
Battery 31.5 W-h, 42 W-h for Pro
Front / Rear Cameras
MIMO wireless antennae
Image courtesy of Microsoft
The next feature to set it apart from the rapidly growing tablet market is that it is running a full version Windows 8 (Pro version) or Windows 8 RT. This is huge for enterprise as well as those looking to completely rid themselves from carrying a laptop, or multiple devices. One version of the tablet runs the RT OS version which carries an ARM based CPU similar to all mobile phones and competitor tablets, and one version will have a full Intel chipset to run the full Windows 8 desktop OS. I absolutely love that Microsoft is providing this option. After MS received a good deal of backlash about offering multiple versions of 8, this makes it easy for some to decide which option works best for them. And since there is also a displayport interface to bump video up to a larger display, it means the tablet can truly be a laptop or desktop replacement. No dock will be required.
Accessories:
3mm thick keyboard cover, full touch sensitive with multi touch touchpad
Tactile keyboard cover (clicking button)
Pen for input
We don't have much as far as pricing or availability is concerned but what the did say was that it was going to be competitive in today's market. In my opinion the world has been waiting for quite a while to get their hands on a good Windows based tablet, many so far have tried and if you look at the Samsung that Dan owned for about 5 minutes after CES you can see why. We have yet to hear about too much about battery life, price, or availability but I'm sure they will be pushing that out as soon as possible to keep people from possibly buying a competitor tablet until the release. With some amazing accessories and pretty stunning style, I think Microsoft may actually have something to get excited about here.
Image courtesy of Microsoft
What I am excited about:
Design, pretty heavy duty for a small device
Display, love pen input on top of Gorilla glass
Microsoft OS, I've been dying for an enterprise friendly tablet that's under 10mm thick
Attention to detail, it seems like they did not miss too much with this
Live feed via The Verge