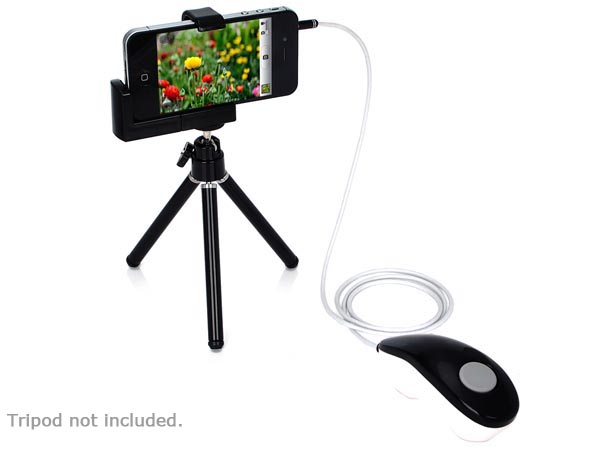 Fancy taking better images with your mobile devices? Trying to keep your mobile Apple gear super-stable while you snap some sharp images? Well then mosey on over to USBFever to take a look at two of their newest offerings for  iPhones and iPads and start snapping away in stable bliss!
First up is the $18.99 Remote Shutter Release Cord for iPhone / iPad. Connect your iDevice of choice to a tripod and insert this clever shutter into the 3.5mm audio jack and Presto! Vastly reduced shaking since you won't be handling the device.
This accessory is compatible with:
- The New iPad (iPad 3rd Generation)
- iPad 2
- iPhone 4
- iPhone 4S
NB: Tripod is not included with the Remote Shutter, but USBFever offers an iPod / iPhone mini-tripod here. 
Next up is the $13.99 Universal Tripod Buddy for Tablets / iPads. USBFever is sharing the photographic love with tablet owners with their Tripod Buddy. This adapter permits tablet users to set up a stable base for their tablet and potentially take sharper pictures. Hm, perhaps a finger painter or the like might flip tablet within the mount and set up an easel…many possibilities here.
This case is suitable for (see specifications below):
- Apple iPad 1, iPad 2, iPad 3
- Samsung Galaxy Tab 10.1″ II
- Samsung Galaxy P7100 Tab 10.1″
- Samsung Galaxy Tab T-Mobile
- Samsung Galaxy Tab P1000
- Samsung Galaxy Tab CDMA
- Samsung Galaxy P6800 Tab 7.7″
- Motorola Xoom MZ601
- Motorola Xoom MX604
- Motorola Xoom MZ600
- LG Optimus 3D P920
- HP Touch Pad
- Blackberry Playbook LTE
- Blackberry Playbook- etc
Between these accessories, why, a clever artiste could rig up an antique camera box, insert an iPhone or tablet, throw a black shroud over the camera housing and themselves and be a veritable techie steampunk Ansel Adams.