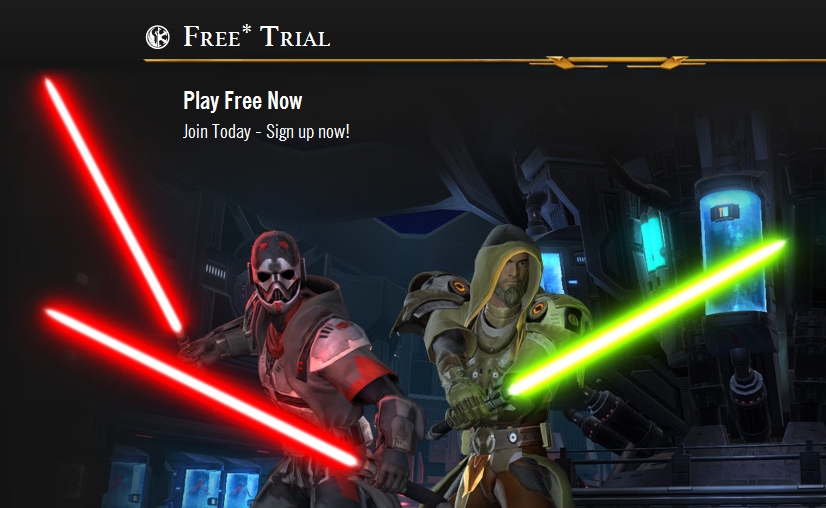 Image courtesy of SWTOR
Not so long ago in a Galaxy not so far away, The Old Republic MMO was released to the world, and from what I gather it received a not so warm welcome from this galaxy. To those heavily vested in the MMO world The Old Republic's pay to play was really nothing new, but was the game enough to move them away from the deathgrip of World of Warcraft?
The Old Republic is now trying to reel in some new Padawan's by offering 'no limit, free-to-play' access up until level 15. You can choose to follow any path of the 8 available classes, and I believe all character selections are available just as they are for the paid version. This is a pretty good deal, since it's at minimum $40 to purchase the game through digital download, and it's $30 for 60 days of play time through the regular paid version.
Today we are excited to announce the Star Wars™: The Old Republic™ Free Trial*. Now you will be able to live out your very own Star Wars™ saga with thousands of other players up to level 15 with no charge or time limit! The Star Wars: The Old Republic Free Trial allows individuals, without a previously active Star Wars: The Old Republic game account, to see a portion of what the game has to offer with no payment method required. – News Release 7/10/12
Image courtesy of SWTOR
If you didn't get enough during a free trial weekend or you just want to check it out then I suggest you start the download. You should get quite a few hours of quality play time in before you hit the level 15 cap. I'm not exactly sure what happens when you hit level 15, but from what I read it sounds like you can continue playing, just not be able to level up. One cool feature as well is that if you decide to pony up the money for the full version, your character will carry over at whatever level you are currently at. So you do not need to start anything over after the trial. This is available for anyone who has tried a trial before as well. Michael stated though that it's quite a pain if you have an account from an earlier freebie weekend, but still possible.
I suggest you get tap the link and get the download going overnight or before you leave for work because it's about 12-15GB for just the download. So if you don't have a fast connection then you'll be waiting quite a bit. I will say that the download servers are very quick on their end, even on free trial Day 0. After install the game takes up about 20GB of hard drive space which is not very uncommon these days for higher end games. I was playing quite smoothly as well using a Core i5 Quad, 8GB or memory, and an Nvidia GTX460 card. So the requirements are not terribly high for midlevel graphics settings.
Cinematic Trailer from E3
I was able to put about two hours of solid gameplay in last night after the download and setup. Of course I was very intrigued by the storyline, even though I went pretty standard with a Human Jedi character. Some of the cinematics became annoying, but I did like that you can select your path based on your responses to certain situations. I found the controls to be a bit sloppy during combat, and while I'm sure some new key and mouse bindings would fix some of it, it is still a confusing setup when using all the force powers and items in the middle of some heated battle. I did, however, appreciate the usual MMO abilities to upgrade your powers, weapons, armor, and skill set. The trade and barter system is pretty easy to use, and earning new gear seems to come a slow but welcome pace. I do not like games were it only takes a few levels to get some of the higher end equipment and weapons, as it seems to shorten the life of the overall game.
After all is said and done, I don't think I'll be continuing with my player after the trials. I love that the game is everything Star Wars, and I believe this is a decent and fun game, but it's just not great enough for me to shell out $.50 a day to hopefully play a few hours a week. There is talk that the game may go completely free-to-play with in-game purchasing. This has worked out well with mobile games, and this business model is picking up traction in the PC gaming world as well (Marvel Universe, anyone?). Let's hope that's the case, because free-to play works out pretty well for casual MMO gamers such as myself.
Hit the links below for more details and to get started.
Via Star Wars: The Old Republic, Technobuffalo