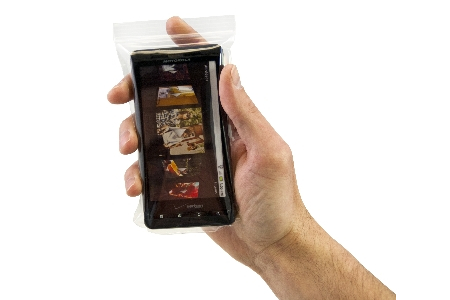 As many of you spend parts of your summer swimming, going to the beach and other outdoor activities, the precious electronic devices you love so much are put at risk. I can vouch for this since my beloved Flip camera was rendered useless last week on my vacation trip to Daufuskie Island in South Carolina. Since we are so dependent (errr, addicted) to these devices, most cannot put them away long enough to enjoy their outdoor fun. Bracketron just announced a new wrap for devices to protect them from sand, dust, moisture and germs. I think after my recent experience, these will be on my must buy list to avoid any more gear mishaps.
Bracketron, a leading manufacturer in accessories for mobile consumer electronics, today announces the retail availability of SmartWraps, clear, fitted protective bags designed to shield your mobile device from sand, dust, moisture, germs and other potentially damaging substances. SmartWraps come in five precision fit sizes designed specifically for use with small and large smartphones, iPhone/iPod touch, iPad/tablets and e-readers. A safe and sanitary way to protect your mobile device from the elements, SmartWraps multi-packs are now available on Bracketron.com for $6.95.

SmartWraps' protective film is sturdy yet maintains full touchscreen functionality of your device, including phone calls, texting and email. The wraps come in packs of six for smartphones, iPhones and iPods, and packs of three for tablets and e-readers, making it easy to dispose of, reuse or recycle the bags at your discretion.