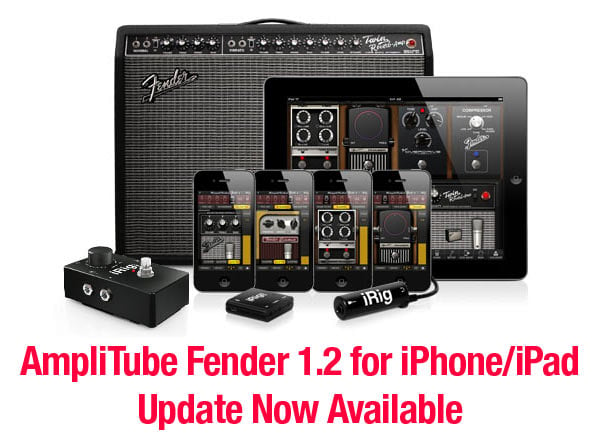 Since the app was initially released just over two years ago we have written numerous times about the excellent AmpliTube app from IK Multimedia. Travis loved it back then, and I raved about the special 'Slash' edition earlier this year.
Now IK Multimedia has released major updates to their two older apps – the original AmpliTube and AmpliTube Fender. Typically I wouldn't mention 'yet another point update' … but this is different. In fact, this update was significant enough for the company to issue full press releases; different enough offer review codes for the apps; and impressive enough for me to take them up on the offer!
Here are some details of the new update:
• Full MIDI Integration. This feature allows users to control AmpliTube Fender 1.2 via standard MIDI controllers using an iOS MIDI interface such as iRig MIDI. This allows to remotely switch presets or to control each knob, switch or controller on the interface with a physical controller. The feature is available as in-app purchase and it is free for iRig MIDI users.

• Support for all 30-pin Audio Devices. AmpliTube Fender 1.2 now supports digital audio input/output via the 30-pin connector with compatible standard core audio devices.

• Redesigned Recorder section. The new recorder section of AmpliTube Fender 1.2 now includes a Loop function for looping sections of recorded material, a new visual Metronome and a quick access Tap Tempo button.

• New Mixer section. A new mixer interface has been added to the recorder allowing easier control of master reverb send, channel level, pan control, mute and solo buttons, plus an FX button for applying the AmpliTube signal chain to the recorded material on the individual channels. This feature also allows "re-amping" of tracks to get that perfect tone or to apply different creative techniques to the material post-recording.

• New Copy/Paste function. Now users can copy or paste audio materials to and from other apps that support this feature, or copy the content of one channel in the mixer to another channel easily.

• Restore in-app purchases. By using the new Restore Purchases feature, simplifies the update process for users that has purchased more gear via in-app purchase.
Head to the iTunes App Store and check out AmpliTube for iPhone and iPad and also AmpliTube Fender for iPhone and iPad .
Also, IK Multimedia is getting close to shipping the iRig Stomp they announced back at CES. It has an MSRP of $59.99. Here are some features:
• Compact, durable yet lightweight, aluminum-cast enclosure integrates easily into any traditional pedalboard.
• Can be used inline with other effects pedals, or directly connected to amplifiers or PA systems using regular ¼" guitar cables with no need for adapters.
• Allows precise adjustment of the signal for perfect guitar and bass levels with its large input gain knob.
• Active battery-powered output circuit improves headroom, especially when used with high-gain amplifiers in the AmpliTube app reducing feedback and crosstalk when recording.
• The bypass switch allows engaging or bypassing the AmpliTube app chain of effects – like a traditional stompbox – for seamless integration into any existing rig.
• Ultra-compact form-factor can be easily carried on the road.
• Features a 3.5mm/1/8" jack for silent practicing with headphones.
• Includes AmpliTube FREE app and can be used with any other guitar processing app that uses the iOS mini-jack
They have shipped a review sample, so keep your eyes open for a full review in the coming weeks. Head to IK Multimedia to get more details for iRig Stomp, and I will keep you informed when it is available to the general public!