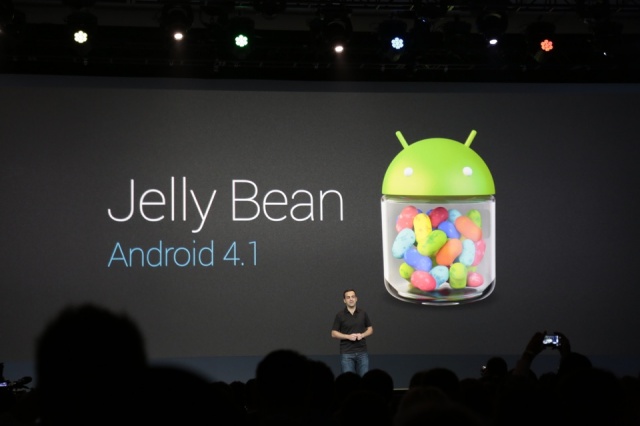 Image courtesy of Android Advices
Unless you have been hiding under your cloak of invisibility, or just been spending a little too much quality time in your fallout bunker, you probably know that Google's latest tasty treat of an OS (Jellybean) has hit the streets. So far the only devices running the new OS are the Nexus 7, and the Galaxy Nexus (short of a few working ports from the community) But with the Nexus 7 tablets now showing up in the hands of those who initially ordered them, Jellybean is sure to be in the general public's hands soon enough. Hopefully it's more than just "an OS my phone may never get." (If that last quote didn't make sense watch for an upcoming video with Michael offering a calm, but pointed, rant.)
For those of you who order the Nexus 7, here are some highlights from the Jellybean change log while you wait for the big brown trucks to deliver your new tablet.
I stuck to most of the Nexus 7  specific updates
Speed. You wanted "lag-free", this is the best Google has to offer. Most lag issues I've seen were related to crappy UI enhancements by MFG's, you won't see that here.
Project Butter. Basically Google wants your tablet to run at 60 fps while navigating around. Whether you are running live wallpaper and 25 live widgets or not. Expect this to be the smoothest running OS yet. And by all rights it should be. Now with Vsync and Triple Buffering.
CPU management. Jellybean has instant on CPU support. Shuts down cores when not needed, turns them on instantly when you need a boost. This should result in lag free experience with some great battery life.
System Changes. Minor but still noteworthy.
Safe mode and clear defaults options. Let's you boot up with no third-party apps or add-ons running. This is great for testing issues.
Easier to choose preferred applications for different tasks. Not sure how this could have gotten any easier.
Notifications. Android notifications were pretty solid before. The new setup with JB is pretty much downright amazing.
same app notifications are automatically grouped. you can expand/collapse with a pinch on the display
touch and hold notifications to turn them off for that app or simply uninstall the app. a truly beautiful concept.
WiFi connectivity status (SSID)
screenshot preview
lock rotation button for tablets
Keyboard. Lots of new features commonly found in third-party apps, enough to make me switch from Swiftkey?
adaptive to your typing preferences over time
quick language switching
includes key maps for over 20 different keyboard styles, and relax DVORAK is included
Beam. It's like when you "pound" your buddy's fist, except you don't blow it up or sprinkle it down.
You just tap devices together and data is transferred between them. Pretty slick and an easy way to transfer pics and movies. I'm sure you've seen the Samsung commercials. Nice feature.
Widgets. One of my favorite parts of Android. Full UI customization and home screen goodness.
Home screen moves to accommodate newly added widgets
Simple resizing of home screen widgets
Move or remove widgets simply by flicking them off the screen
Search. I know I know, it's Google's evil money-maker. But it's how they started it all so it better be good.
Knowledge graph search results gets you precise answers quickly
Super quick access to search in various ways including headset, lock screen, and swiping up
Just say "Google" while in the search box to use voice search, you can even get spoken answers. *voice dictation does not need a network connection
Google Now. Loving the concept since I finally don't need 3rd party apps to get a quick view of life.
This is what a tablet for me is all about. A virtual dashboard of life right at your fingertips. I guess one of the reasons I choose Android over other OS's for phone/tablet is because of how the home screen is set up. Things like this let me see everything that is important to me without needing to open an app or go into a program. It's just there in front of you. Combined with good notifications and some killer widgets, this will be a great addition to phones and tablets across the board. Check out the video of Google Now.
\
 Calendar. Life organization, all day every day.
Like butter, better animations, fade ins, and pixie dust. It just looks better and runs smoother
Better sync with desktop calendar (colors, notifications)
Single tap email to all event guests including using new quick responses
Tablet optimization for better layout and optimization
Complete control of you view calendar space
Fancy New App updates: If you dont have them get them, if they need updating then do it.
Google+: Honestly, whether you use it or not the updated app looks fantastic. Especially in portrait mode. Google+ is improving and gaining some traction.
Gmail: 7″ tablet optimization. Gmail app has come a long way. Looks and runs excellent and is easier than ever to navigate.
YouTube: New interface, preloaded subscribed videos, easier setup for output to TV
Chrome: Some minor changes but the default on the Nexus 7. Perfect sync to desktop and ridiculously easy navigation.
Maps: Offline Maps (sorry TomTom and Garmin) and they work beautifully. WiFi only? No problem. Better compass, indoor views improved, indoor walking directions. This is honestly one of the toughest to beat programs that Google makes.
Currents: Not a huge fan myself, but at least some nice layout and performance updates, as well as some tablet optimization.
Google Music: I'm not getting into a debate here, just noting that the update adds some good stuff like song identification, new art retrieval, swiping for more control, and a better UI design. Music works and is simple, but as you may know most simply don't use it.
Other Notable Updates:
Play Store makes it easy to install, uninstall, and update apps directly from browser. Easier management of your devices without having to pick them up. Very simple to see what installed, and full history of devices apps. Very handy for spying on what your little one's are doing with their new Nexus 7 tablets
Play books. Let's just say they are improving.
Movies & Shows: Offline viewing, auto sync to apps after purchase, zoom during playback
Accessibility: Gesture Mode for blind users, easier traversal with text, better talkback support, full support for braille
That's a not-so-short but still pretty brief summary of some the latest from Android. I am always happy to see forward progression as well as response to consumer feedback and complaints. As long as Google keeps releasing new source every 8-10 months then at least the enthusiast and Nexus community will be happy. Some great stuff put out here by Google, hopefully it continues to only get better. Feel free to share your thoughts about Jellybean, Android or the Nexus 7 below. Let us know if JB lives up to your expectations.