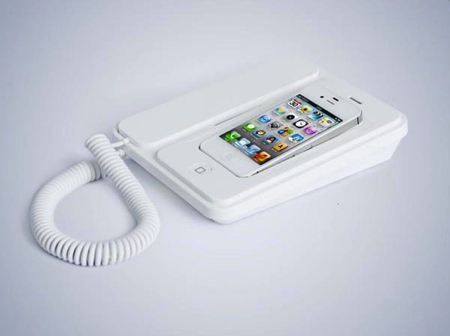 I recently had an interesting discussion with my kids after they saw a person on TV talking on a phone with a cord. They were confused as to why it was connected to "that box". Beyond feeling really old, I realized how different the world they grow up in is from the one I once knew. That got me to thinking how it really was not that bad talking on a corded phone as long as there was no need to be mobile. Let's face it, slamming the phone down in anger was much more dramatic than taping the end button hard. USB Fever has released their own version of the old office phone that is actually a bluetooth headset for the iPhone. Be retro, stylish and modern geek all at once!
Introductions:
This BT Phone is a perfect union of intelligent terminal device with iPhone4/4 S, with the elegant appearance and superior voice quality. Intelligent bluetooth connecting, traditional operation habit, let you use your iPhone 4 / 4s in a more convenient way, it is a good companion for the business and home.

Features:
- Use your iPhone 4 / 4s as a retro phone set, disguise yourself are at work when you are at office or at home
- A charging dock for your iPhone.

This accessory is compatible with:
- iPhone 4S

Colors Available: 
- Gloss White


Package Contents: 
- Retro Bluetooth Headset for iPhone 4 / 4S x 1

Packaging:
- Bluetooth Phone set x 1
- Handle x 1
- Profile x 1
- User Manual x 1
The Retro Bluetooth Headset can be found here and retails for $69.99.