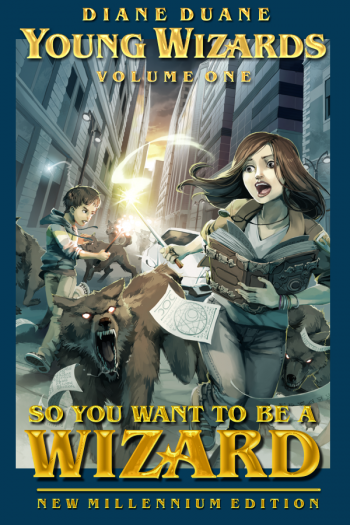 My younger son absolutely LOVED the 'Young Wizards' books when he was younger. The stories centered around Nita and Kit so captured his imagination that he continued to read them even to the point where he could digest the entire series in a day. He tracked the site and forums and really hoped for the making of a Young Wizards movie, something rumored for quite a while. And while he has outgrown the series, he caught an announcement on Twitter about a new edition of the first book in the series.
Now we have word from Diane Duane herself that today she is launching a 'New Millenium Edition' of the original book, with further updates to follow:
I've taken a while about this (originally it was going to happen last year) because, especially as regarded the first book, I wanted to take care not to fix what wasn't broken. These new editions are emphatically not rewrites. However, they do involve:

•The most important bit: adjustment of technology and background in the book(s) to reflect what's routinely been part of young readers' lives, starting around 2008

•Some minor editing of material that struck me while revising as clumsy or ineffective

•Some additional material (not a whole lot)

•Repair and reconstruction of what has for a long time been a very broken, inconsistent and frankly dysfunctional timeline

The third aspect is going to be most noticeable in So You Want to Be a Wizard. Some of you will have heard that the book has had several near-misses with film production over the last ten years. One of these resulted in a screenplay which, while not perfect, threw up some interesting additional scenes. A few of these were fun enough, or drove the plot in such a manner, that I decided to add them to the revision of the book. These are not massive passages or life-changing sequences: they're just in there now along with the rest of the tidying and updating.
You can head to the Diane Duane ebook direct store as that is the ONLY place to grab this right now. It releases at 6PM EST on August 7th, but as of now there is no pricing on the site.
Did you ever read these books? How do you feel about these updates and streamlining?