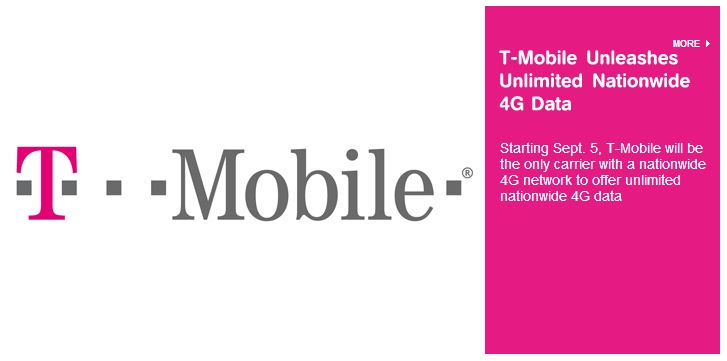 Images courtesy of T-Mobile
Magenta had a nice little press release the other day announcing nationwide unlimited 4G plans coming next month. Now we all know what carriers call "unlimited" is usually capped at about 5 GB, but this one is really an all-you-can-eat data plan. The best part is that it's only going to cost you $20 on a Value plan, and $30 on a Classic plan. That means you stream all the music, movies, Netflix, Hulu, YouTube, or whatever else you want 24/7 without ever worrying about throttling, overage charges, or nasty text and email warning messages. Is this the nation's #4 carrier desperately trying to gain back some of the many lost customers? Possibly an attempt to keep the current customers loyal? We won't know until later next year how Q4 2012 shapes up for T-Mobile, but I can tell you as a happy T-Mobile customer, I am pretty excited.
I currently have unlimited talk, text, and 5GB worth of 4G data (unlimited 2G data) all for $75 on a Value plan. The only time I ever had an issue with customer service was with my LG G2x, and that basically ended with LG not really wanting to cover their product for defects and T-Mobile taking the heat. Now I realize that T-Mobile's coverage is not very good compared to some of the other competitors, but if you live in a good T-Mobile area then you will probably agree that it's a good bang for the buck. I appreciate T-Mobile's coverage  because living in the Philly burbs, I average out at about 8-12Mbps, and peak even higher in some spots. T-Mobile always has a  nice assortment of phones to choose from, and usually has some sort of deal if you are on a subsidized plan. So with all that said, my plan is about to get a lot better, and even a few bucks cheaper. Let's look at the breakdown from how I see it.
The press release is pretty cut and dry stating that Value voice and data plans with unlimited data will be $69.95 out the door. If you are on a Classic plan then you'll be seeing a $89.95 monthly charge on your statement. The big difference is that Value plans do not have a subsidy for phones, while the Classic plans do. I run with the Value plan mostly because I don't plan on leaving T-Mobile anytime soon so overall its a good bit cheaper, even after you buy yourself a new phone. Some people don't really care about the monthly discount or don't want to pay for a phone outright, so they prefer the Classic plans so every two years they get a heavy subsidy on a phone. I buy mine outright usually on Swappa or Craigslist usually about 3 months into their release and I still come out ahead. Here are the numbers to make it easier.
*Remember, this is for nationwide unlimited (the real kind) voice, text, and 4G data
Value Plan
Total = $69.95 a month, $839.40 a year, or $1678.80 for 24 month contract term
A plan this cheap does not come without a hitch. There is no subsidized phone meaning you won't find the latest and greatest for $200 under contract. I've been running this route for a few years and have bought every T-Mobile phone outright. Sites like Craigslist, Swappa, and listings on Google+ have pretty much kept me in the $350-$400 range for a few month old flagship phones. Google even sells the Galaxy Nexus for $350 right from the play store as well, so there are options that can still save you a good amount over the Classic plan if you don't mind waiting a few months for the early adopters to get sick of their new shiny phone.
Classic Plan
Total = $$89.95 a month,  $1079 a year, or $2158.80 for 24 month contract term
Add the standard $200 cost for the new phone you bought and you're at about $2358.80 (+taxes/fees) for the Classic plan but you do get a nice subsidy on the latest and greatest hardware. For some this works out better than the Value plans because some don't like to shell out big bucks for new hardware every few years months. Either way I believe $90 is still cheaper than most of the others, but really only worth it if you get T-Mobile in your area.
In the end you'll be saving $480 total if you go with the Value plan, which may or may not benefit you depending on if you want to save every month, or shell out the one time full price fee for a phone. I'll stick with my Value plan mainly because T-Mobile still allows for corporate discounts which usually end up in a 10-15% discount on top of that. When the bill hits every month I pay about 2$ less than my plan costs due to taxes and fees, which I can't complain because it's still under $75. After September 5th, I expect that to drop below $70, which will make it a True Unlimited Value Plan.
Some things to consider if you are on the fence about re-upping or coming back to T-Mobile
Our aggressive rollout of backhaul means:

A competitive 4G experience today – We continually strive to provide a fast and dependable 4G experience, and our aggressive deployment of cell site backhaul is one of the reasons our 4G network outperformed Verizon's LTE network in download speeds in 11 markets in PC Magazine's recent Fastest Mobile Networks test.
A speedier rollout of LTE in 2013 – Because we've already upgraded to fiber backhaul on over 32,000 cell sites, the transition to LTE will be a much faster process, enabling us to rapidly deploy LTE in 2013. In contrast, some of our competitors continue to use T1s at cell sites for backhaul which provide a slower connection to the Internet.

At the end of the day, 4G comes down to experience. Because of the strides T-Mobile has made with our backhaul strategy over the last 5 years, we are well positioned to continue offering a competitive 4G experience for years to come.
T-Mobile is currently testing the 1900MHz spectrum that they gained from AT&T in the failed acquisition, this means you'll get decent HSPA+ service if you unlock any AT&T (or most GSM) phones including the iPhone. Don't count on it this year like they are saying, but either way it means more coverage and more phone options
LTE rollout is coming, expect it to be slow but it's still coming. (2013?) Currently, some T-Mobile phones can use the 42Mbps capable bandwidth being offered in some cities
Corporate Discounts still apply to Value and Classic plans. They also allow for other discounts such as military and AAA
Most T-Mobile phones support UMA or WiFi calling. Anywhere you have WiFi connection you can make calls, whether you have cell service in that area or not
T-Mobile doesn't care what you use your data on. Any app, program, or feature. Zero restrictions. (as far as I know)
T-Mobile will unlock your phone for free. So you can use it on any GSM carrier if you are travelling (once every 90 days, they email you the unlock code)
T-Mobile was rated the worst customer service this year, so if you are a frequent caller, you might have to deal with sub-par representation
I saw nothing about family plans and unlimited data, so this probably does not apply to those on a family plan
What are your thoughts on T-Mobile and their new data plans? Will this help them gain some customers back?
T-Mobile Press Release