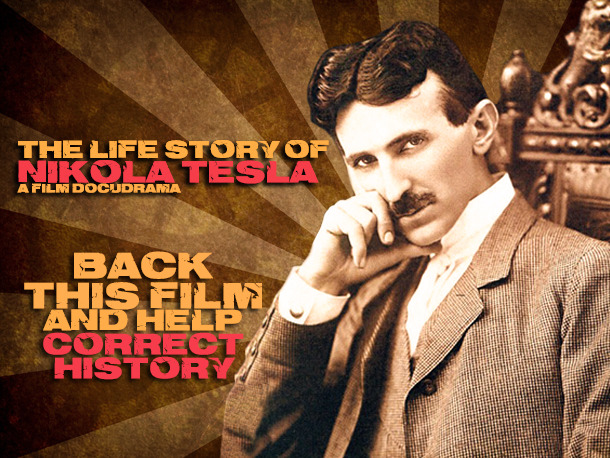 You know it's funny, but for some reason I've been fascinated by Nikola Tesla arcana recently.  I don't know what it was, but I rented the (really dark and pretty disturbing) Christopher Nolan film The Prestige the other week, just to watch the parts where one character travels from England to Colorado Springs to talk to Tesla – awesomely played by David Bowie, I might add, and with his assistant being played by Andy Serkis (live and in person with no Golum CGI!).
Tesla was, to put it mildly, a towering genius, and decades ahead of his time.  He was crushed down by Big Business (with a big help from Thomas Edison), but that didn't stop many of his ideas (e.g. alternating current) from being adopted.  But other than via the Tesla Coil (zzzzzZZAP!), unless you're a physicist, you probably don't know that much about him.  Which is a damn shame that some people are trying to change.  Hence this Kickstarter project.
Project Title: Electricity | The Life Story of NIKOLA TESLA
Status: Active
Closing Date for Funding: 9/9/2012
URL of the Project: http://www.kickstarter.com/projects/tesla/electricity-the-life-story-of-nikola-tesla
From the Creatives:
Los Angeles based documentary television producer Wil Cashen, who has used the Serbian-American inventor's story to inspire his own life's work (he created the first electric pickup truck for Ford), refuses to let his hero remain in obscurity any longer. Cashen has launched a Kickstarter campaign to fund the third phase of the docu-drama, "Electricity: The Story and Life of Nikola Tesla" - http://kck.st/OfEd2N

It is shaping up to be the perfect time for the American public to finally learn about the history of Tesla, or to revisit what little they might already know about the man. Whether its online blog The Oatmeal's successful campaign to convert Tesla's Wardenclyffe Tower into a museum honoring him, or even the rumored biopic starring Nicolas Cage and Christian Bale (who also starred in Christopher Nolan's Tesla-influenced "The Prestige"), Tesla's visionary work and bittersweet biography are as astonishing and relevant as ever.

Of the existing media projects concerning the life of Tesla, only "Electricity" allows fans of this unsung genius to take an active role in correcting the wrongs done to this man's life and legacy, while also bringing awareness of his monumental contributions to the public at large. Among this project's supporters is magician Marco Tempest, who generously allowed his popular TED talk regarding Tesla to be featured on the Kickstarter campaign page for "Electricity." In addition to literally changing history, Kickstarter contributors will also receive great Tesla merchandise, such as exclusive shirts, figurines, solar iPhone case-chargers, and even a chance to be part of the "Electricity" cast.
David Bowie as Nikola Tesla in "The Prestige"
A Warner Bros., Touchstone Pictures, Newmarket Productions, Syncopy film