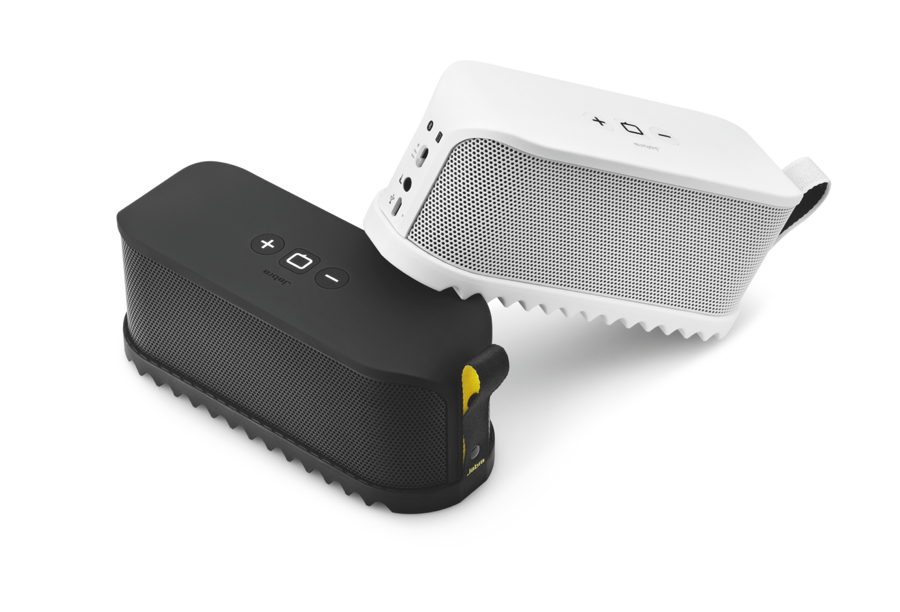 I love my JawBone JamBox and use it all the time; I also love the various Jabra products we have reviewed over the last few years. I've been waiting and  waiting for Jabra to step into the same space occupied by the JamBox and release a small yet powerful Bluetooth speaker. After all, the Jabra Freeway already merged Jabra's excellent voice-calling technology with streaming audio in a car speakerphone, so the move to a desktop, beach, go-anywhere Bluetooth speaker didn't seem like a big leap.
Well, at long last Jabra has released their small BT speaker… and it looks great. The Jabra Solemate is described as "Your Music Companion Wherever You Go" and it is intended for use "From the Beach or the Backyard to a Tailgate or House Party".
Here's how Jabra describes their mighty small-one.
Looks small. Sounds big.

Connect to almost anything – works wired or wirelessly

Tough – take your Solemate anywhere

Powerful sound with 3 front-facing speakers

Transform your music, movies and games

Amp up your conversations – speakerphone capability

All night long – up to 8 hours of continuous play

Comes with durable sound bag for added outdoor protection
What makes the Solemate standout is the fact that is is built for use on the go. As a result, the company made sure it was dust and splash resistant. As they explain,
About the size and weight of a water bottle, the Jabra Solemate is small and light and features a thick carrying strap that makes it even easier to carry around and use in any environment. A unique rubber 'sole' stores a 3.5 mm audio cable and a sound bag provides an extra layer of protection in sand, moisture and sunny outdoor conditions.
I like that, especially since the speaker is just under $200.

As you might expect, the Solmate can handle music from any device equipped with Bluetooth. It uses BT 3.0 to ensure good sound quality. You can also pump music through if via a 3.5 mm audio cable or USB cable. That makes it pretty much universal.
And because Jabra is a bit late to this particular game, they were able to see what is in the marketplace already and go one better. As a result the product page notes
When it comes to sound quality, the Solemate starts where the competition stops. Custom-designed and tested in our state-of-the-art facilities, it provides strong, deep bass from an integrated subwoofer and rich acoustics from dual tweeters. The Solemate sounds great at any level – it goes up to 120 dB SPL*, so go ahead and turn it up.
We will be able to check out this claim when a review sample arrives and we can have it go head to head with the JamBox and the Braven 600.

And, of course, the Solmate also works as a Bluetooth speakerphone for voice and Facetime/Skype calls.
Finally, there was this from Jabra,
Jabra has also announced a partnership with ClubCreate, a social platform for music creation and collaboration that allows music lovers to play their remixed tunes via the Solemate speaker. Combining Jabra's heritage in creating high-quality audio devices and ClubCreate's platform for music expression creates an experience unlike any other. With the rise of creating customized music and ring tones for mobile phones, the Jabra Solemate and ClubCreate partnership capitalizes on the trend, enabling users to legally create and personalize their own music with ClubCreate and share what they've created with friends and family via the Solemate.

A multifunctional portable wireless speaker, the Jabra Solemate enables music lovers to enjoy the freedom of big sound with strong, deep bass from an integrated subwoofer and rich, vibrant acoustics from dual tweeters. The Jabra Solemate connects to any device that can play music – either corded or wirelessly – using Bluetooth technology, a 3.5mm audio cable or USB cable, and caters to all types of uses, indoors or outdoors. Whether connected to a mobile phone, tablet, iPad®, iPod®, mp3 Player or laptop, the Solemate is the perfect audio companion to play music clearly and loudly.

The Jabra Solemate ($199) comes in black or white; it will be available at Best Buy retail stores and online at BestBuy.com, Amazon.com, Jabra.com, and ClubCreate.com. Learn more here.
You can pre-order it through our Amazon Affiliate Store for $199.99. Get White, here. Get Black, here.