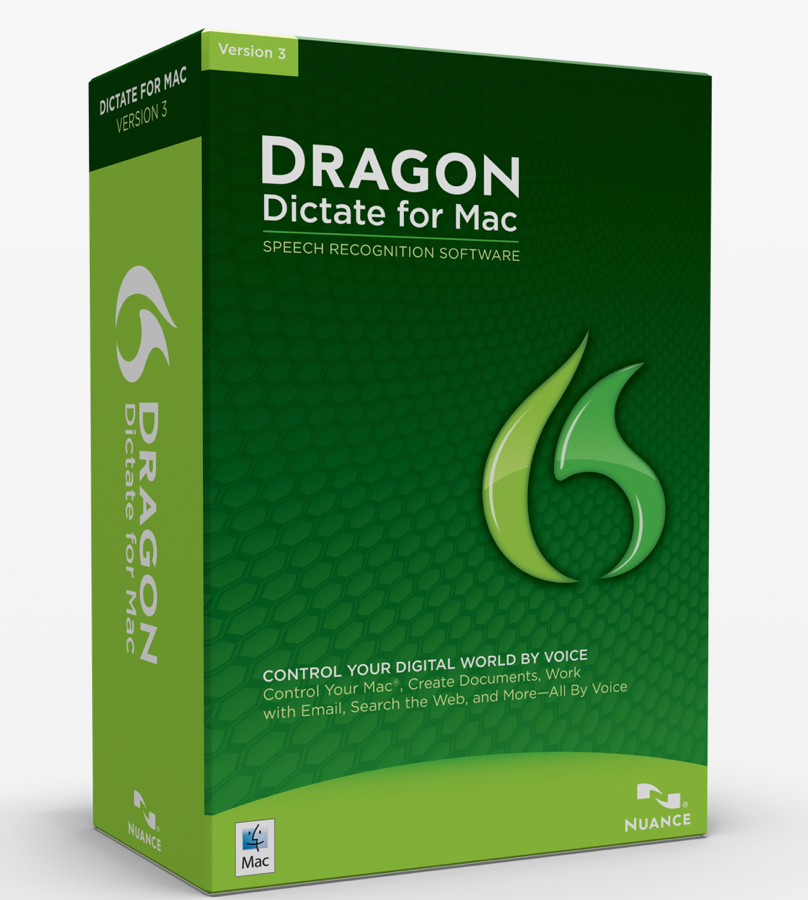 A few weeks ago, we brought word that Nuance was releasing the next version of their Dragon NaturallySpeaking for Windows. The update brought a host of advances and new features, not the least of which was a significant improvement in the accuracy of the voice recognition. At the time, I assumed Nuance would soon be announcing a similar update to Dragon Dictate, their voice recognition software for the Mac operating system. After all, since the company purchased Dictate they had slowly brought increasing parity between the platforms with the Mac update usually following some weeks or months after the Windows version. Sure enough, the company is announcing the next update to Dragon Dictate this morning. Dragon Dictate for Mac 3 is a significant update to the premier voice recognition software for OS X and, as expected, it offers similar advancements to the ones seen in Dragon NaturallySpeaking.
I had a chance to speak with company representatives last week and get an early look at the update and… I'm looking forward to using what will, I expect, quickly become one of my most relied upon Mac applications.
Before we take a closer look at what the update brings. let's get something out of the way. If you have updated your Mac to OS X Mountain Lion you know, hopefully, that global voice recognition is built into the operating system. (If you haven't upgraded then you should, as it is pretty convenient.) Thanks to the dual-array mics on my MacBook Pro with retina display, the voice rec works remarkably well. In just a few short weeks I have come to rely heavily upon it. And since it's baked into the OS it is FREE. "Why then," you might ask, "would I want to pay for Dragon Dictate for Mac?" That is a reasonable question and the answer is, quite frankly, just as reasonable. The Mac's built-in voice rec works in a manner similar to its equivalent on iOS. It works well but, since the actual processing happens on external servers, it requires an active data connection. Add in the fact that it only lets you dictate for a set amount of time per session, and you have something that works well but is quite limited.
Dragon Dictate is, on the other hand, amazingly powerful. Moreover, since the recognition process occurs on the computer itself, it requires no data connection. Nuance clearly anticipated this issue arising since one of the bullet points in their release states:
Available Anytime, Anywhere: Dragon Dictate gives you power to dictate text at any length whenever and wherever you like to get more done faster, and without a network connection.
That cleared up, let's take a look at what Dragon Dictate for Mac 3 has to offer. The update brings a 15% increase in accuracy (that's huge!), new Smart Format Rules, new correction capabilities for a personalized experience, support for wideband Bluetooth headsets, the ability to transcribe recorded audio files from a single speaker, and much more. As Peter Mahoney, Chief Marketing Officer for Nuance and Senior Vice President, General Manager, Dragon states
Dragon Dictate delivers an incredibly powerful voice experience for the Mac community, with the ability to not only speak text for documents, emails and more, but also command and control the Mac applications and features people use the most. We've been incredibly focused on bringing new features and increased accuracy to this latest version of Dragon Dictate so Mac users can experience the accuracy, speed and productivity that results from speaking instead of typing.
The increased accuracy of the application is a huge deal. Version 2.5 was pretty amazing in its accuracy. When I use a good microphone and dictate carefully, it works quite well, so an additional 15% is a nice step forward. The new personalization offerings also add to the ease of use and speed of the program. Dragon Dictate will now adapt even more fully to the way people speak when using Smart Format Rules, which "customize and personalize every user's Dragon Dictate experience".  As the release explains,
With its revamped correction process, Dragon Dictate now allows you to use speech to correct individual words or phrases through a single, easy to understand window that lets you select alternate word choices, or spell and train new words. Additionally, Dragon Dictate includes a richer list of alternative word choices, so when making a correction, it's more likely that the word or phrase intended will be presented as an option. When a correction is made, Dragon remembers and learns your preferences, making it more accurate each time. And with the Vocabulary Editor, you have the ability to set alternative written forms of words or phrases (e.g. grey vs. gray).
Dragon Dictate for Mac 3 also offers enhanced control in more applications than ever. A prior release of Dragon Dictate introduced Full Text Control for Microsoft Word and TextEdit. Version 3.0 maintains this functionality and goes one better with the Express Editor. This feature, which is easily enabled, offers Full Text Control such as the ability to mix talking and typing, formatting and correction for any application on the Mac. The Express Editor lets you dictate with Full Text Control and then, after you finish dictating, transfer the text wherever you want.
And if you have not used the new functions and applications in Mountain Lion, such as Notes and Reminders, there is no better time than now since the update also offers built-in commands in them. In and of itself, this is a great productivity boon!
The update also includes the ability to transcribe recorded audio files. While you will first need to create a user profile for a digital voice recorder, once you do you can record audio files on the go and later transcribe them. The flexibility of formats the application accepts is impressive and includes .wav, .m4a, .m4v, .mp4, .aif, and .aiff audio file formats. It will also work with files created using Nuance's Dragon Recorder app. (Free in the App Store.)
Finally Dragon Dictate 3 supports 16kHz wideband Bluetooth wireless headset microphones. The means increased accuracy thanks to the higher audio quality of the signal transmitted from the headset to the computer. It even means you can eliminate the need for doing the initial voice training previously required for Bluetooth users.
Dragon Dictate for Mac 3 is available for pre-order immediately starting at $199.99 through Nuance's website. Registered owners of Macspeech Dictate or Dragon Dictate can purchase an upgrade for $149.99. Yes it is pricey but it is also incredibly powerful. The software will be available to purchase as a download beginning on September 13, 2012 and physical orders will begin shipping the week of September 24, 2012.  I'm looking forward to getting my hands on a copy of it soon, and I will share a walkthrough as soon as I can.