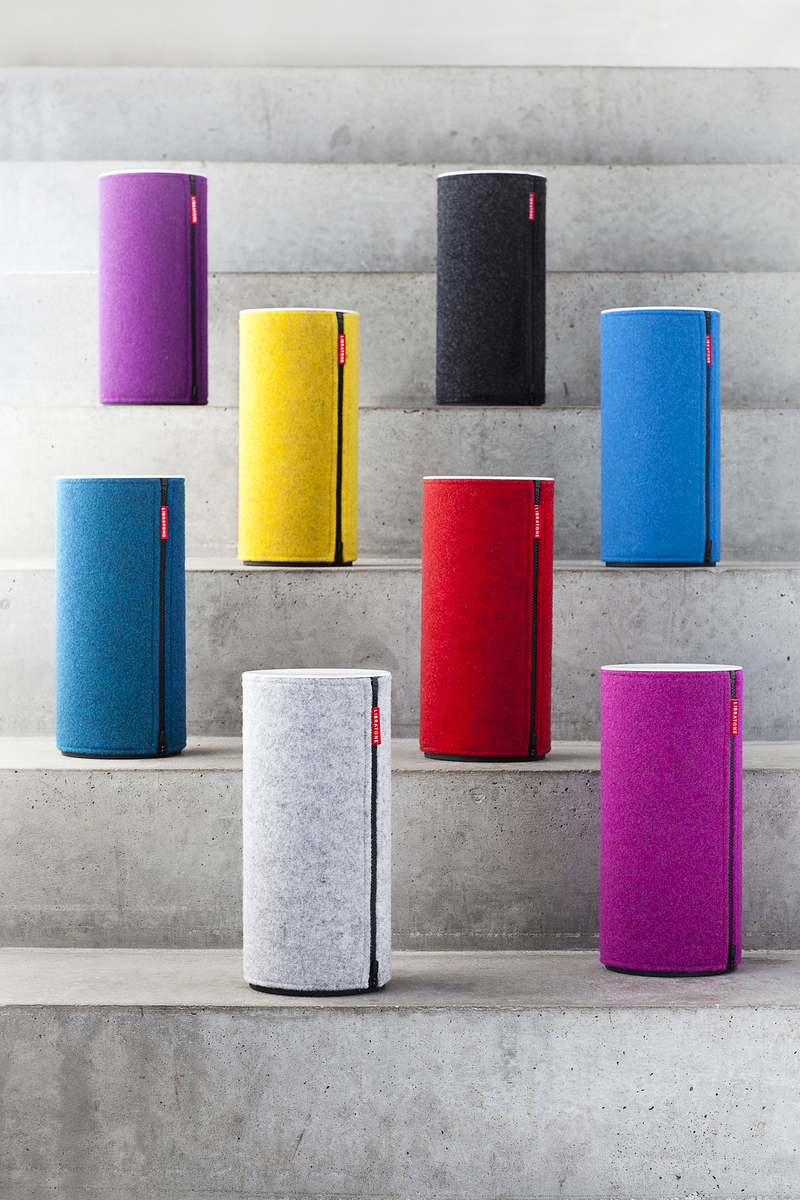 With Apple changing their dock connector this year, I've finally moved to a portable Bluetooth streaming speaker system in my work space; and while it works well enough, it's an oddly shaped gray plastic box. I keep it hidden at the bottom of our television stand; that way we can hear it, but no one has to look at it. I'm okay with that; but if I had my druthers, my speaker would have been better looking and it would have used Airplay, rather than bluetooth.
So of course, today comes an announcement that the Danish audio Libratone has introduced the Zipp wireless speaker, which "represents the first use of Apple's AirPlay technology in a peer-to-peer implementation in an innovation called "DirectPlay"." These portable speakers are Apple-centric, as you may have guessed; if you have an iPod, iPhone, iPad, iPod touch, Mac computer, or even a PC running iTunes, $399 will get you in the door on "engineering prowess of Libratone – known for speakers costing well over $1000 – to a compact, portable device that delivers clear lossless sound virtually anywhere."
Sounds intriguing, right?
The Libratone Zipp features include:

A true digital amplifier that amplifies the exact sound that the artist created – not just approximation like cheaper analog amplifiers.
A dipole design and dual ribbon tweeters for crisp 360 degree "FullRoom" sound.
Plug-in and battery powered for use both in home and on-the-go.
Easy setup – out of the box to playing FullRoom 360 degree sound in less than a minute.
Minimal, but beautiful Danish design with easily changeable genuine Italian wool wraps to blend with any decor and eliminate the "big black plastic box" eyesore that most speakers bring to an otherwise tasteful room.
I understand making this speaker about the size of  roll of paper towels, but I'm not yet sure about why they wrapped it in Italian wool. Hopefully we have a review sample coming soon, and Dan will be able to shed a bit more light on that.
In the meantime, read on to decide if the Libratone Zipp sounds as lovely to you as it does to me …

No wires, no hassle, no compromise – Libratone introduces a truly portable AirPlay® speaker
COPENHAGEN, Denmark, Sept. 26, 2012 /PRNewswire/ — Libratone today announces the first ever truly no-compromise and hassle-free wireless speaker, the Libratone Zipp.

An attractive and compact portable speaker, the Libratone Zipp is the first and only device to deliver the performance and convenience of AirPlay without the need for a Wi-Fi network and complicated setup thanks to Libratone's all-new PlayDirect™ technology.

With the battery-powered Libratone Zipp, you are able to take wireless high-end audio to the outside world, eliminating the need to be close to a wireless network. A full charge provides up to eight hours of playtime wired and up to four hours using the wireless connection.

The fashionable Libratone Zipp not only gives anyone the freedom of music anywhere, anytime, it also features changeable wool covers in eight vivid colors to suit all tastes and occasions. As with the rest of the Libratone product family, the Libratone Zipp works seamlessly with iPad, iPhone, iPod touch and Mac, as well as PC.

"We wanted to design a speaker that makes high-end sound portable and truly wireless," says Tommy Andersen, CEO of Libratone. "Similar to a pair of headphones, Libratone Zipp follows you wherever you go – around the house, to work, in the park or on holiday. PlayDirect technology makes Libratone Zipp a wireless, out of the box product – setting your music free has never been this easy!"

AirPlay, evolved!
An exciting innovation developed especially for Libratone Zipp, PlayDirect™ technology makes it possible to stream music with or without the need for an in-home Wi-Fi network. This Libratone-only feature is an easy-to-use, ideal solution for picnics, camping trips and other outdoor activities.

PlayDirect™ works in conjunction with AirPlay technology, creating a direct Wi-Fi connection between the Libratone Zipp and any compatible device, such as an iPhone, iPod touch, iPad, or computer. Whether connected through AirPlay or using PlayDirect™, Libratone Zipp is immediately ready to deliver a high-quality audio experience.

Contemporary design and color
The slick Libratone Zipp offers a contemporary design with a Scandinavian heritage and a rainbow color selection, including Salty Grey, Pepper Black, Pineapple Yellow, Raspberry Red, Passion Pink, Plum Purple, Petrol Blue and Icy Blue. Libratone's characteristic fine Italian wool covers are sold separately and are quick and easy to change. Additionally, the minimalistic speaker features a leather handle for easy portability.

A 360-degree sound experience
FullRoom™ technology is a 360-degree sound experience created by specially designed drivers inside the Libratone Zipp. Unlike conventional speakers, which have a "sweet spot" directly in front of the speaker, FullRoom™ technology disperses sound in all directions for an unrivalled experience – no matter where the listener happens to be.

Contrary to regular speakers, Libratone Zipp doesn't have a front or back meaning that everyone around it is surrounded by music. To further enhance the music experience, you can download the Libratone app that allows for customization of the sound.

"The round shape of Libratone Zipp is an example of how design and functionality can go hand in hand. The cylinder shape combined with the FullRoom technology makes Libratone Zipp a social speaker, including everyone in the music experience," says Kristian Kroyer, creative director at Libratone. "The cover change feature also makes Libratone Zipp a long-lasting design object."

Libratone Zipp dressed in Salty Grey or Raspberry Red is sold exclusively at Apple Stores and Apple Online from October 2012 and retails for $399.

Libratone Zipp also comes in 3-pack-color boxes with two extra wool zip-on covers included. The elegant Classic Color Collectionfeatures Libratone Zipp in Pepper Black, Petrol Blue & Raspberry Red and the fresh Funky Color Collection includes Pepper Black, Passion Pink & Pineapple Yellow covers. The Libratone collection boxes are sold broadly in retail and online from October 2012 and retails for $449.

Also available in the Libratone AirPlay family is Libratone Lounge, a true hi-fi replacement for your living room, and Libratone Live, a versatile AirPlay speaker and winner of the CES Innovations 2012 Design and Engineering Award. Both speaker models will receive PlayDirect functionality through a few firmware updates during Q4 2012.

About Libratone
Libratone creates sound systems for today. That's it!

Our approach is a three-headed beast: Wireless technology, hi-fi quality, and Scandinavian design – in one sound source.

Our goal is to add a new high-end audio dimension to the iPhone, iPad, iPod and computers worldwide and to deliver an alternative to clumsy stereo systems and the wire-havoc they wreak. All without compromising the sound experience.
 You can check them out and order,
by clicking this link to visit the Libratone site
.