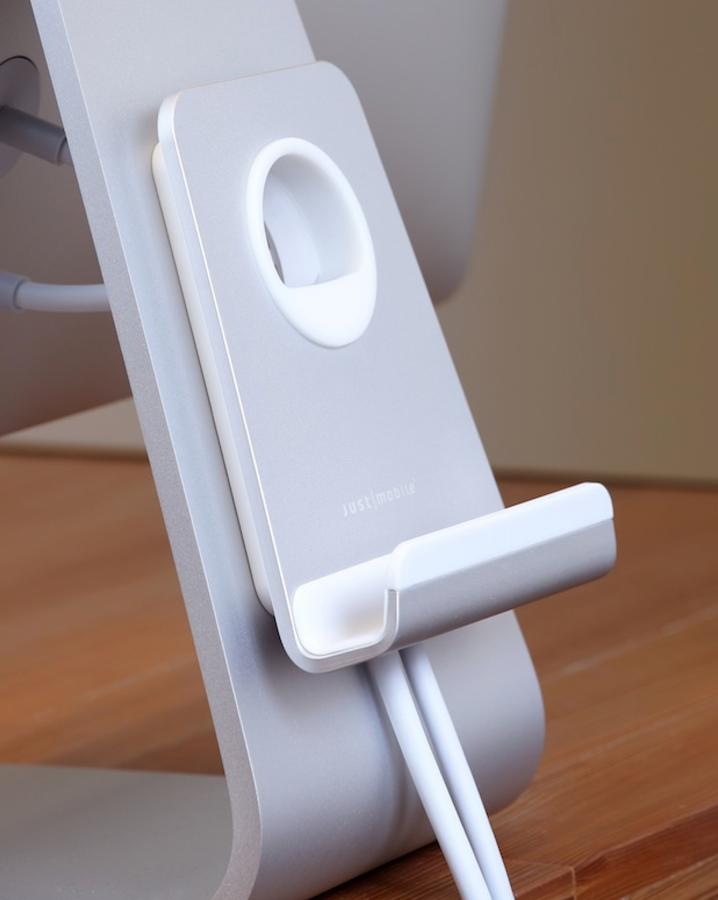 JustMobile always offers accessories that look great AND are highly functional. Today they sent word of two new products designed for use with MacBook Pros and MacBook Airs. The AluBase and AluRack take different approaches to accomplishing the same task and, each in their own way, they help turn your laptop into functional, and sleek, desktop.
First up is the AluBase. It is a vertical stand for the Apple MacBook Pro and MacBook Air.
Crafted from a single piece of high-grade aluminum, the AluBase™ ships with plastic inserts to hold MacBook Pro, MacBook Pro with Retina display and MacBook Air firmly upright.

Conceived by the award-winning Danish designer Jakob Wagner, AluBase™ is designed to turn your MacBook into a desktop sculpture. It's the most stylish solution for storing your iconic laptop, and an elegant way to use your MacBook with an external monitor and keyboard.
The AluBase has high-quality aluminum construction and include inserts to guarantee the right fit. It is available now and has an MSRP of$49.95.
Then there is the Just Mobile AluRack, which is:
the innovative rear storage solution for your Apple iMac or Thunderbolt Display. This ingenious rack, designed in Denmark by the award-winning Jakob Wagner, allows you to mount a laptop or external drive to the rear of your display.

The two-piece AluRack screws together through the hole in the stand of your iMac or Apple Display, creating a solid shelf without causing any damage to your computer. Crafted from high-grade aluminum and anti-scratch TPR cradle, AluRack is the perfect compliment to your iconic computer kit and the ideal way to keep your desk clutter-free.
TheAluRack is compatible with all flat-panel iMacs, Cinema Displays and Thunderbolt Displays and helps keep your desk neat while you remain efficient. The AluRack is available now for $59.95.
Learn more and place your orders here on the JustMobile website.