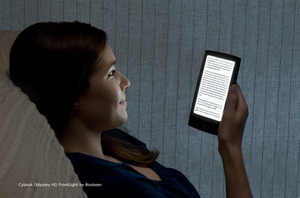 Which came first, the ecosystem or the hardware? When it comes to ebooks, it's a tough call. There were eBookstores going back to the original Palm Pilot, and there were hardware ebook readers like the Franklin eBookman long before the Kindle was even a beginning prototype for Amazon. Then you had devices like the Sony Reader, which cobbled together the two, ebookstore and hardware. Of course, the real victors there were Amazon with the Kindle and Barnes and Noble with the NOOK, because they came in with a polished end to end solution. Still, there's a niche market for straight ebook hardware, and for that reason alone Bookeen is releasing a new device, the Cybook Odyssey HD.
From the press release:
Bookeen is announcing today the launch of the new Cybook Odyssey HD FrontLight, the 6th generation and most advanced Cybook with an inbuilt FrontLight solution and with the most advanced E Ink® HD display. Since 1998, Bookeen has been the European champion in digital reading years before Amazon entered the market.

The new Cybook Odyssey HD FrontLight which will be launched first in Europe starting from November 2012 marks a revolution in the e-reader market. It is embedded with an HD display, innovative and low power consumption FrontLight technology and an enhanced user interface. It is also ergonomically designed, made with Bookeen's HSIS technology (High Speed Ink System) as well as smart connectivity technology. Bookeen disrupts digital reading with this high quality e-reader incorporating brand new technology.

Michael Dahan, Bookeen CEO: "In 2007 with the launch of the first reader with E Ink® display technology, we participated in making digital reading a success. We did this by offering a new comfort and demonstrating how the competition between e-readers and paper books is changing our lives. Now with the new Cybook Odyssey HD FrontLight we are making a huge step forward, demonstrating that we are the only independent solution to partner with booksellers against Amazon or Kobo".
So, hardware-wise this isn't a bad device. I think the majority of ebook shoppers aren't looking for an ecosystem-agnostic device, but if you are, the Cybook sounds on paper like a great choice. A few years ago I reviewed the Cybook Gen 3, and I found it to be a great bit of hardware. I am sure the Odyssey HD will continue in that tradition.
Cybook has more of a following in Europe, where Amazon and B&N have expanded a bit slowly. It's a good time to be shopping for an ebook reader-between the Kindle Paperwhite, the NOOK Glow light, the Kobo Glo, and now the Cybook Odyssey, there's many choices for eInk devices with screen lights. The only bad news is if you're a Sony fan…apparently Sony is the only ebook company not to get the front light/back light memo!
If you pick up a Cybook Odyssey HD, or see one in store, let us know in the comments what it's like!