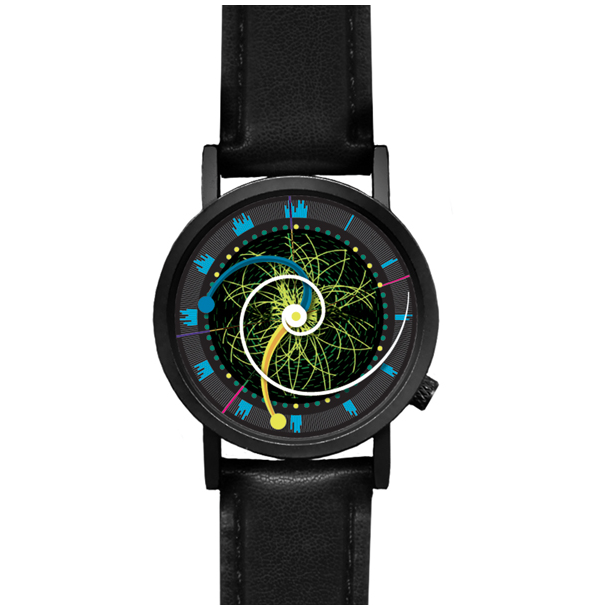 I sucked as a physicist.  No, seriously:  I just wasn't good at it.  (I was even worse at chemistry.)  For a physical sciences guy who wanted to be an electrical engineer, I really tanked.  Yeah, I muddled through well enough to get my 15 Physics college credits up to and including quantum mechanics, but I was definitely not the next Einstein.  Or even the next physics grad student teacher's aide.  (Why do you think I moved into computer science?)  But that doesn't mean I can't at least appreciate it, and get a good laugh when our pal Jason of Gadgets & Gear sent us this item:
The God Particle Watch is the most divine watch of all time!

The mind-blowing design of the Higgs Boson Watch displays what is believed to be evidence of the Higgs boson decaying into other bosons during a collision. When Nobel Prize-winning physicist Leon M. Lederman gave the Higgs boson (named after Peter Higgs) the nickname "The God Particle," he was not exaggerating.What is the God Particle? Essentially the Higgs boson proves that our understanding of the basic workings of the universe is correct. For half a century scientists have tried to discover this particle which is a part of what's called the Standard Model of particle physics. This is a set of rules that explains what the world is and what holds it together. And that's what this watch truly represents.

Celebrate the Higgs Boson's discovery the geekiest way you can!

It's Higgs Boson Time! The Higgs Boson Watch is by far the geekiest watch known to man. Where else are you going to find a watch capable of unifying the four elementary forces—weak, strong, electromagnetic and gravitational? The possible discovery of the Higgs boson by CMS and the ATLAS experimental teams at the Large Hadron Collider was a huge step for physicists everywhere. It will finally validate that the scientific community's view of particle physics is actually as they expected it to be. Before this, scientists had to just assume it exists in order for the standard model to exist. The possible discovery of the Higgs boson will likely lead to rapid discoveries about our universe! To celebrate this momentous discovery we have the Higgs Boson Watch! This isn't your standard model watch. Well, it kind of is.

Look smarter than your friends with the only watch designed with physicists in mind!

Be amazed as the hands spiral around the watch in such a seemingly gravity defying fashion. It's a must-have gift for physicists and science lovers everywhere! And next time someone compliments your watch, you finally have an excuse to talk about your love of particle physics. You've probably wanted to do it for decades now and it turns out the Higgs Boson Watch was just the missing piece of the puzzle. We're sure this watch will lead to discussions about possible origins of the universe or at least lead to conversations about how long until Sheldon wears this watch on The Big Bang Theory.

If the Universe Is the Answer, What Is the Question?

Japanese movement
Quartz movement
Imitation Leather Band
1 year warranty
Pre-order. ETA Week of 11/25/2012
I absolutely sent a pointer to this to my friend Tim the rocket scientist; it's exactly the kind of thing that would make him laugh.  What about you?  Surf on over and check it out; it's available from Gadgets & Gear for an MSRP of $39.95.  And if you get one, be sure to tell us what you think below!