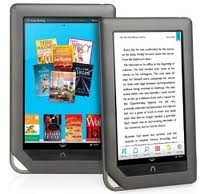 Looking for a really cheap ebook reader, but hate eInk screens? You're in luck! Barnes and Noble is selling the NOOK Tablet and NOOK Color at rock bottom prices, $159 and $139, respectively. The downsides are that you won't get NOOK Video and the other bells and whistles of the NOOK HD … but you will have a pretty darn functional media tablet for well under $200!
Of these two, I would only suggest the NOOK Tablet. It's a few dollars more than the NOOK Color, but the NOOK Color is two years old, while the NOOK Tablet is just about a year old. For an extra $20, you can pick up a device that is not nearly as outdated, and in a world where technology cycles get measured in months, not years, that makes a huge difference for compatibility and support.
Of course, if you are willing to spend $200, the NOOK HD is probably the best choice. Everything from the screen to the software is updated, and the reviews have been uniformly positive. Whatever your budget, Barnes and Noble has a device for it!
Barnes & Noble Announces Lowest Prices Ever on Award-Winning NOOK Tablet™ and NOOK Color™ Starting Sunday
Amazing Products at Best Value: NOOK Tablet As Low As $159 and NOOK Color Just $139

New York, New York – November 3, 2012 – NOOK Media LLC, a subsidiary of Barnes & Noble, Inc. (NYSE: BKS), the world's largest bookseller and leading retailer of content, digital media and educational products, today announced amazing new, lowest-ever pricing on its award-winning NOOK Tablet and NOOK Color devices in time for the holidays. Beginning tomorrow, November 4, 2012, customers can purchase the highly acclaimed NOOK Tablet starting at just $159 and NOOK Color for $139 at nearly 700 Barnes & Noble stores and hundreds of Barnes & Noble College Bookstores, online at NOOK.com and through other leading retailers offering NOOK® products.

Customers seeking a fast, lightweight tablet with an incredible 7-inch VividView™ display and long-lasting battery life will love the popular NOOK Tablet, now available at $159 for the 8GB model and $179 for the 16GB version. NOOK Tablet offers access to the world's largest digital library of more than 3 million books, magazines, newspapers, children's books, popular movies, TV shows, music and more, plus thousands of high-quality NOOK Apps™, fast Web browsing, e-mail and expandable memory. NOOK Color provides tablet essentials at a great value for only $139. The 7-inch device is ideal for reading and exploring a variety of great content including books, magazines, interactive children's books, apps, access to top video and music services, e-mail and Web browsing.

"Just in time for the holidays, these new lower prices make NOOK a great gift for anyone in the family," said Jamie Iannone, President of Digital Products at Barnes & Noble. "With everything from interactive children's books to the best collection of top 100 magazines in rich color, NOOK is perfect for anyone who likes to read."

All NOOK customers can shop Barnes & Noble's expansive NOOK Store™ of more than 3 million digital titles, and have the ability to enjoy their NOOK content across a wide array of popular devices. Barnes & Noble offers Always Free NOOK Support in all of its neighborhood bookstores, with more than 40,000 NOOKsellers across the country ready to assist customers with setting up their NOOK devices or choosing their next great read.

About Barnes & Noble, Inc.

Barnes & Noble, Inc. (NYSE:BKS) is a Fortune 500 company and the leading retailer of content, digital media and educational products. The company operates 689 Barnes & Noble bookstores in 50 states, and one of the Web's largest e-commerce sites, BN.com (www.bn.com). Its NOOK Media LLC subsidiary is a leader in the emerging digital reading and digital education markets. The NOOK digital business offers award-winning NOOK® products and an expansive collection of digital reading and entertainment content through the NOOK Store™ (www.nook.com), while Barnes & Noble College Booksellers, LLC operates 667 bookstores serving over 4.6 million students and faculty members at colleges and universities across the United States. Barnes & Noble is proud to be named a J.D. Power and Associated 2012 Customer Service Champion and is one of only 50 U.S. companies so named. Barnes & Noble.com is ranked the number one online retailer in customer satisfaction in the book, music and video category and a Top 10 online retailer overall in customer satisfaction according to ForeSee E-Retail Satisfaction Index (Spring Top 100 Edition).

General information on Barnes & Noble, Inc. can be obtained via the Internet by visiting the company's corporate website: www.barnesandnobleinc.com.

NOOK®, NOOK Tablet™, NOOK Color™, NOOK Store™, NOOK Book™, NOOK Video™, NOOK Newspaper™, NOOK Reading Apps™, and Read What You Love. Anywhere You Like™ are trademarks of Barnes & Noble, Inc. Other trademarks referenced in this release are the property of their respective owners.

Follow Barnes & Noble on Twitter (www.bn.com/twitter), Facebook (www.facebook.com/barnesandnoble) and YouTube (www.youtube.com/user/bnstudio).

About NOOK Media LLC

NOOK reading and entertainment products make it easy to read what you love, anywhere you like™ with a fun, easy-to-use and immersive digital reading experience. With NOOK, customers gain access to the expansive NOOK Store™ of more than 3 million digital books, plus periodicals, comics, apps, movies and TV shows, and the ability to enjoy content across a wide array of popular devices through free NOOK Reading Apps™ and NOOK Video apps, available at www.nook.com/freenookapps. NOOK owners receive Always Free NOOK Support in any of Barnes & Noble's nearly 700 bookstores. Find NOOK devices in Barnes & Noble stores and online at www.nook.com, as well as leading retailers including Best Buy, Walmart, Target and many others. NOOK products will also soon be available in the United Kingdom through www.nook.co.uk and leading retailers.

For more information on NOOK, follow us on www.twitter.com/nookBN or www.twitter.com/nook_UK and www.facebook.com/nook.

###