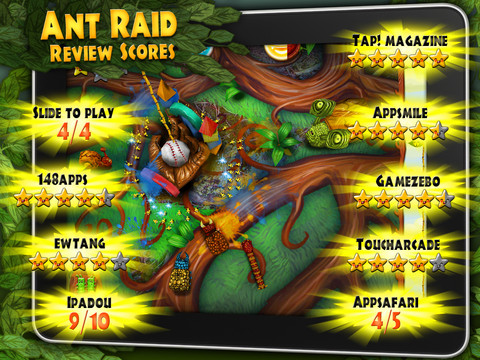 The probability that I will buy a Windows 8 phone or tablet is, to be honest, pretty low.  I am not an Apple Fanboy–I was a UNIX guy for years and years, so I observed the Microsoft/Windows fanboy flamewars from the sidelines, as it were.  But my personal experience with Windows on various PCs (for work) has not been a happy one, to the degree where I basically avoid Windows software if it is at all possible.
However, that doesn't mean that I want Windows 8 to fail.  Quite the contrary:  I've heard good things about it (Judie likes it!), and the decision to make the desktop, tablet, and mobile OS variants all look and feel similar to each other is an interesting one.  And of course, I want the competition out there, so Apple doesn't get complacent.  Which means that I think it's good when I see news items about games moving onto the OS:
Finnish independent game developer Prank Ltd has brought Ant Raid, its universally acclaimed iOS title, for Microsoft's latest operating system. The game is now available on Windows Store for $3.49, and runs on all Windows 8 enabled tablets and computers.

"We at Prank are excited to take part in the Windows 8 launch with Ant Raid. Among many other improvements for this new version, we made the game work as smoothly with mouse controls as it does with touch controls" says Seppo Santapukki, Creative Director of Prank. "Also the way SmartBombs – the difficulty aiding power-up items – are gotten and used was completely revamped", Mr Santapukki continues.

Ant Raid is a lightweight real-time-strategy game toying around a cheerful horror theme. Players help a vibrant colony of ants survive swarms of fellow insects, mutated into mindless monsters by the toxic fumes of insecticide. The Windows 8 version contains 100 playable levels, 4 endless modes, 300 collectible stars, 24 enemy types and a complete localization support for 8 languages. Ever since its original release on iPad, Ant Raid has enjoyed wild critical success, and is listed as the all-time 2nd highest scoring iOS strategy game in Metacritic with a review score average of 90 out of 100.

Screenshots, videos and further information of Ant Raid can be found from the game's official website at www.antraid.com.
Sound like your kinda game?  Ant Raid is available for an MSRP of $3.49 on the Windows Store.  And if you get it for yourself, be sure to let us know what you think below.