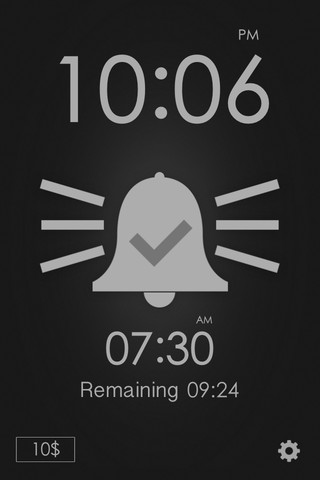 I am absolutely not a morning person.  I hate getting up early, I like staying up late, and I have always been grouchy about the fact that, more than 100 years after the incandescent light bulb was productized, we're still running the country as if we all work farmer's hours [even though some of us still do! ~Judie].  Makes me nuts.  But in spite of that, I learned early how to do with my brain-dead early-morning self, and never had much of a problem getting up when that ol' alarm went off.  Heck, for years I didn't even set an alarm clock because, for whatever reason, my circadian clock was accurate enough to poke me awake at the right time.
But if as Sami has often pointed out, I'm not typical.  (Or as she puts it, "You're weird.")  And for the typical person, getting up even in the face of a clamoring alarm is a struggle.  So here's an interesting take on solving that problem:  Involve your money!
Whatever Apps is pleased to announce the release of Dollarm – free smart Alarm Clock for iPhone. Dollarm solves the problem of oversleeping by using greed to encourage him/her to wake up. The user pays money for every overslept minute. Everyone prefers to wake up on time than pay money.

In Dollarm, the user specifies the price for every minute he overslept after the alarm clock rang. The minimum minute price is 10 cents. Users do not have to pay money to try Dolarm as 1$ is already on account immediately after installation.

To prevent from disabling alarm, the user has to solve a mathematical problem. Only after the correct answer will the alarm turn off. Unlike most smart alarms Dollarm does not drain iPhone battery life and  does not require iPhone to be turned on. Dollarm can be downloaded from the App Store absolutely for free.

Problems Dollarm helps to solve:
* Ignoring alarm once it starts to ring
* Disabling alarm by habitual hand movement and further sleeping
* Keeping iPhone on for Alarm Clock to work
* Draining iPhone battery life

Major Features:
* Works when iPhone is locked or app is closed
* Does not waste battery power
* Makes user solve a little math problem to turn alarm off
* Provides clean, simple, intuitive design
* Has 12 and 24 hour time format

Device Requirements:
* iPhone 3GS, iPhone 4, iPhone 4S, iPhone 5, iPod touch and iPad
* Requires iOS 5.0 or later
* 4.1 MB

Pricing and Availability:
Dollarm 1.0 is Free and available worldwide exclusively through the App Store in the Health & Fitness category.

Dollarm 1.0: http://whatever.ru/dollarm/index_en.html
Download From iTunes: Dollarm – Whatever Apps
Genius idea, or insanity?  Who knows?  Surf on over and check it out and, if you get it, be sure to let us know how it works out for you below!