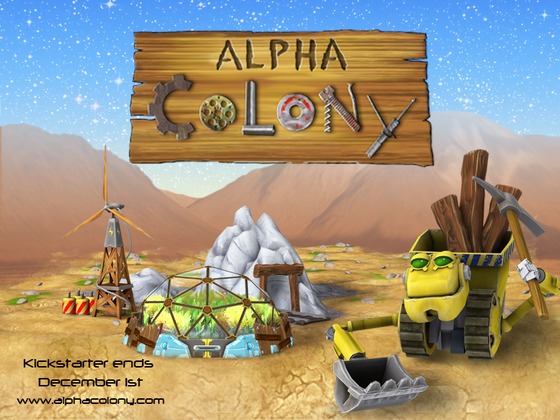 I'm not a big SIMs kinda guy, but boy, I understand the attracting.  Both Sami and Maggie spend an awful lot of time building virtual worlds, directing virtual groups of people, fighting virtual wars, and doing I don't know what all in simulation.  And one cool thing about sim games is that they're not limited by time–sims in the old west!  Sims in Rome!  etc.–or by hard reality, really.  So I find the new variants interesting, including this new Kickstarter project:
Project Title: Alpha Colony: An Exploration, Building and Trading Game
Status: Active
Closing Date for Funding: 12/2/2012
URL of the Project: http://www.kickstarter.com/projects/1547218311/alpha-colony-an-exploration-building-and-trading-g
From the Creatives: Race against other prospectors in this building and trading sim that's fun for the whole family. Coming July 2013 for PC and iOS HD. With your help, we can also bring the game to Android, iOS LD, Mac, Linux and Ouya.  If you enjoyed Civilization®, Words with Friends™, Settlers of Catan®, or M.U.L.E. ™, you'll love Alpha Colony!
You and three other colonists are dropped on a distant planet somewhere in the wild-western outer spiral arm of the galaxy. Here, you will explore, build, and trade in order to become the richest root'n-est toot'n-est land baron in town. However, your success is also contingent on the success of the colony, requiring a unique blend of cooperation and competition to ultimately succeed.
You will explore the alien landscape and lay claim to plots of your choice. The key to your survival is a multi-purpose robot called a Rover.  You'll transform this always lovable but sometimes unreliable robot to suit your needs and harvest planet's four natural resources: energy, ore, gems or food.
With luck and strategy, you'll strive to be the most productive colonist.  But it'll also take wit and cunning to hoard and haggle with your neighbors. Each trade affects the price of a resource. Outsmart those other wampus-wranglers by buying low and selling high, to come out on top!
Best of all, you can try our Wampus Hunt Mini-Game prototype to explore the Alpha Colony world and get a taste for the game RIGHT NOW!