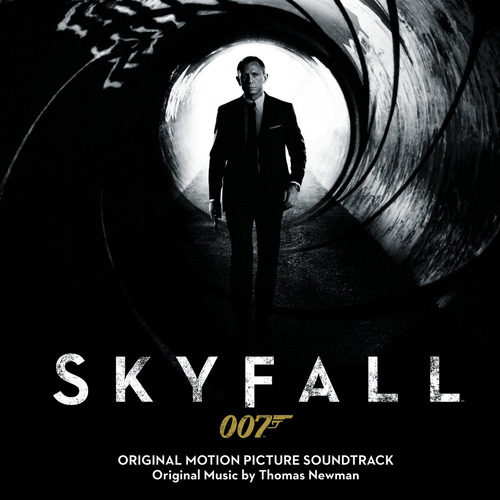 On Friday November 9, 2012, Sony/MGM released the 23rd Bond film Skyfall in theaters and IMAX in the U.S. You can find extensive gear at various shops including Amazon
Bond Lifestyle, the 007 site and James Bond 007 Store.
Fans seeking James Bond gear can choose from an impressive cache of signature gear, film sets,  music soundtracks, poster sets, postcard sets,video games, iPhone cases, books, special art, board games and toys. Ladies can even get special OPI nail polish sets in several new colors inspired by Bond films.
Martini Sets for those shaken, not stirred vodka martinis are standard items in the Bond films. The single Shaken, Not Stirred Martini Shaker 16 oz. set has you covered. Got company? Get the 007 Martini for Two Gift Set with two martini glasses cradled in a leatherette covered hard case. The Tom Ford Marko FT0144 Sunglasses
and men's (and women's) Omega Seamaster 300M Watch
have also become standard pieces in the recent film installments. Fans have several different film sets to grab including the recently released Bond 50available on Blu-ray and DVD.
The Skyfall Original Motion Picture Soundtrack
contains 30 memorable tracks composed by Thomas Newman for the new film on the Sony Classical label. Newman has scored over fifty feature films and succeed with his first Bond film musical score. The Best Of James Bond 50th Anniversary (2 CD) Soundtracks
contains 50 tracks from all 22 007 films including music by the John Barry Orchestra and Shirley Bassey.
James Bond: 50 Years of Movie Posters
is packaged in a beautiful slipcase with two art prints and the James Bond 50th Anniversary Postcards
set feature a few cards for each film. Playing card sets include the James Bond 50th Anniversary – Complete 99 Card Base Set
(one odd numbered and one even numbered).
James Bond video games include the new 007 Legends
on PlayStation 3 and Xbox 360. The motion capture movements and the graphics impress on James Bond 007: GoldenEye
 which also features on and off-line multiplayer modes. This Nintendo Wii game is available in a classic edition with an exclusive gold-colored Wii Classic Pro Controller.  The Goldeneye game series expands to the PlayStation 3 and Xbox 360 in Goldeneye 007 Reloaded that includes PlayStation Move compatibility (not required – no Kinect capabilities on the Xbox 360 version), a special "sharpshooter" bundle, and an exclusive character/weapon.
007 phone and iPod touch skins include a Sean Connery cover
as well as the cover featuring the new Skyfall film
starring Daniel Craig. The 288-page field guide book On the Tracks of 007 features the exotic James Bond worldwide filming locations is available in two separate versions – a black & white printed version or full color version. James Bond Drinks: The Complete Guide to the Drinks of James Bond, Second Edition
covers Ian Fleming's book and the films with everything from beer to champagne.  Former James Bond actor Sir Roger Moore offers a more personal account on the films in his book Bond On Bond: Reflections on 50 years of James Bond Movies
. Author Paul Fleming writes James Bond 007: The Definitive Guide
, and the Editors of LIFE Books offer LIFE 50 Years of James Bond
.
Unique art pieces include a signed 8 x 10 photo of Halle Berry's appearance
in her memorable orange two piece swimsuit in the 2002 Bond film Die Another Day. Board games include the James Bond 50th Anniversary Monopoly Edition
featuring all 23 Bond films, which includes the Aston Martin DBS or Oddjob's bowler hat game pieces. Scene It James Bond DVD Game
lets players test the knowledge while they relive endless 007 film moments.
The authentic James Bond toy car sets include Aston Martin DB5 SkyFall (British Secret Service edition), Ford Mustang, and Lotus Esprit. Features include remote control and sound and light effects. Enjoy 007 in more ways than one and look for more unique James Bond items in the near future.