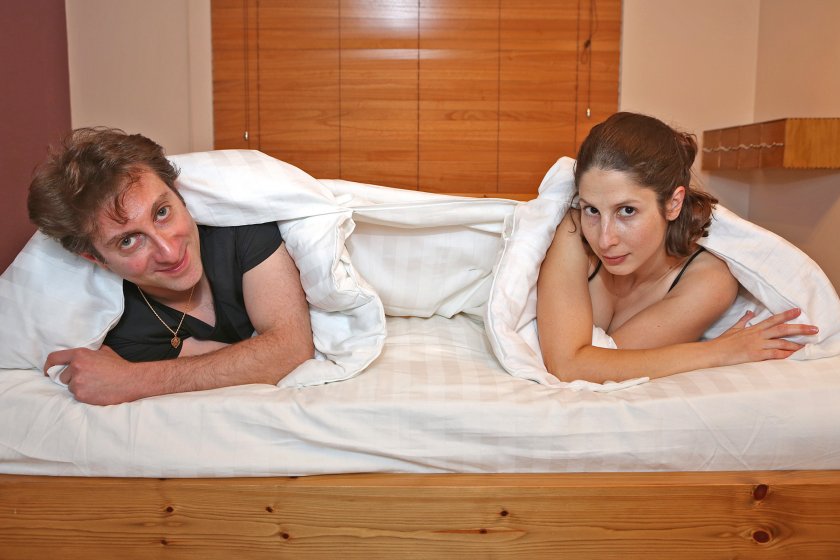 This may come under the heading of "TMI", but when it comes to spending the night in the same bed with me, I am simply a nightmare for my partners.  Not because I hog the covers–no, for some strange reason (probably I was dropped on my head as a child, or had a traumatic incident involving a down comforter), I need all the sheets and blanks absolutely flat above me.  Naturally, most normal people like to vary that a bit, whether they roll up in their covers, or tuck themselves tightly in, or whatever.  But it's a challenge when you're sharing the bed with someone if they don't sleep in the same way you do, covers-wise.  And let's face it:  no on ever does.  Which is why Grahame Cohen got to work trying to solve this durn problem:
Entrepreneur and inventor Grahame Cohen has finally solved the number one problem couples have at bedtime – duvet hogging – with his international patent applied Couple Snuggle Duvet Cover.

Grahame Cohen explains*,* "Duvet hogging occurs from the natural desire to wrap yourself up on both sides of your body, which means unconsciously you pull the middle of the duvet under your shoulder, removing the covers and comfort from your partner at night. My inspiration came one sleepless night when I decided to solve the puzzle of how to share a duvet with my wife, yet have my own duvet to snuggle in at the same time."

*One cover, two duvets and a clever twist*

The Couple Snuggle Duvet Cover connects two standard single duvets, one on each side of the bed. But the clever patent applied design separates each duvet from the top of the cover towards the centre, so that you can simply snuggle apart and wrap your own duvet around you or snuggle together just like it's one big cover.

Grahame Cohen continued "My wife now uses a heated duvet on her side of the bed and I use an all seasons duvet on mine. Now we can regulate our own temperature. We feel like we are under the same cover when we snuggle together, but are able to wrap ourselves in our own duvet when we sleep."

*Duvet battles finally put to bed*

Couples can now simply buy two standard single duvets of their own choice and place them into the Couple Snuggle duvet cover, instantly solving issues of duvet hogging and temperature differences. With no more bedding related arguments, the Couple Snuggle is set to improve relationships everywhere.

Manufactured in the UK, The Couple Snuggle is currently being sold exclusively at www.couplesnuggle.com, in a white satin stripe, and a rich ivory satin stripe design, both of which come with matching pillowcases. The Couple Snuggle will soon become available internationally.
So are you sitting there thinking, "Holy crap, I got to order me one of those!"?  Well, surf on over and check them out, then.  And if you get you and your sweetie one, be sure to tell us how well it alleviates the cover wars at your house below!