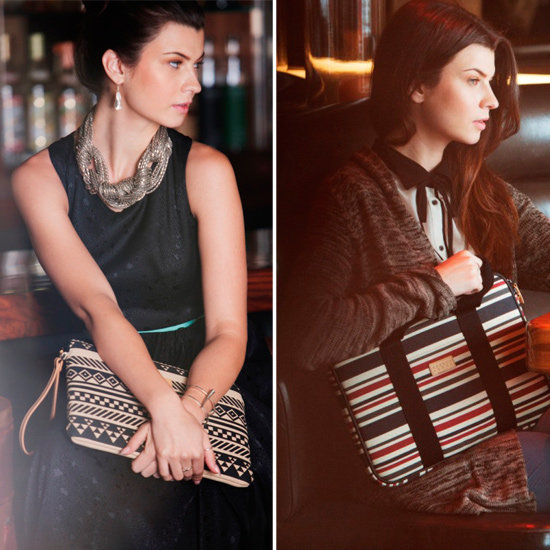 Although (hopefully) my technogypsy travelin' days are in my rear-view mirror (so to speak), that doesn't mean that I'm immune to the allure of nice tech bags.  I have definitely found in my three friggin' plus years of constant travel that having a good bag and your gear nicely stowed makes a huge, huge amount of difference in everything rom your stress level, to how quickly you can access your stuff at need.  So even though this collection from Greene + Gray is clearly not being targeted at dudes like me, I'm still happy to present it to you as another option in the (seemingly-endless) search for decent gear bags:
 Greene + Gray today revealed its first collection of women's accessories designed to wrap tech in fashion, debuting silhouettes with features specific for carrying smartphones and laptops, but boasting style, fabrication and detailing that clearly put fashion first. Beginning this holiday season, Greene + Gray's women's collection includes Macbook wristlets and carryalls and versatile iPhone 5 wallets that can stand alone as accessories or combine for a complete tech-toting set.

Launching with seasonable Stripe and Tribal collections, the new pieces deliver a look and feel that women will put on their must-have accessories lists.  The Stripe collection features a navy, red, grey horizontal stripe against a winter white canvas, while the Tribal collection makes a bold two-tone and graphic statement, designed with a black and natural colorway in crisp shapes and patterns. The beauty of the collections are also in Greene + Gray's details, such as genuine leather pulls and labels in tan, wood debossed logo buttons, waxed canvas fabrication to protect against wear and tear, and cotton webbing straps for comfortable carrying.

Greene + Gray was designed to offer today's multi-faceted woman refuge from one-note, purely functional tech accessories by beautifully marrying refined style with unexpected hints of spunk for a true fashion label look and feel. Each piece in the Stripe and Tribal collections include the level of polish and detail that women expect from their favorite fashion houses while adding in Greene + Gray's unique design DNA to accommodate the technology women use each day.

Greene + Gray bags are available now at Apple stores and Apple.com, and will be available at GreeneAndGray.com and additional retailers in time for the holiday season. Each collection will feature six unique silhouettes including wristlet sleeves for the 11 and 13-inch Macbook Air, carryalls for the 13 and 15-inch Macbook Pro, and a tote for the 13-inch Macbook Pro.  The iPhone 5 wallet will be available only at GreeneandGray.com. Prices range from $50 to $100.
Whad'dya think?  Look cool?  Well, surf on over and check them out, and if you end up getting yourself or a loved one something, be sure to let us know what you think below!