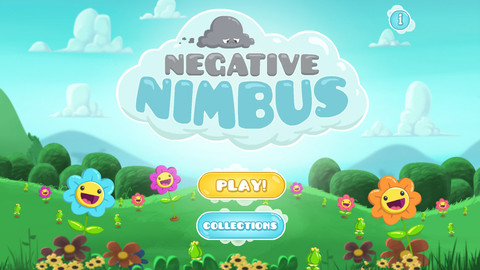 It's kind of embarrassing to admit, honestly, but I'm always looking for new iPhone games.  Especially now that the iPhone is just a little bit longer and, to my mind, feels so much better and like a hand-held gaming platform in my hand.  Unless I'm hella busy, almost every Thursday I check out what's new on iTunes.  That's how I ended up buying and downloading games like "Horn" and "EPOCH"–I don't read enough online gaming forums and sites to keep up with the plethora of games.
So anyway, I always enjoy seeing new games in the ol' Gear Diary "incoming" queue.  And for you folks who are like me, and always looking for a new game to try out, here's Negative Nimbus:
Negative Nimbus, the award-winning iOS game about a lovable-but-curmudgeonly raincloud who can't stop raining, is now available on iPhone and iPod touch. Developed by three-time Emmy-nominated indie studio CloudKid, this beautiful touch-based universal app won the award for best visuals and design at the Boston Festival of Indie Games.

Players guide Nimbus through the stunningly animated worlds of Sunnyland, raining on all the flowers and trying to keep everyone else dry. The simple, intuitive tap-and-swipe gameplay is designed for gamers of all ages to explore these immersive levels and avoid soaking its dozens of quirky characters. In addition to supporting iPhone and iPod touch, the new-and-improved version has more levels, more comics, more hats, more achievements and more overall awesomeness.

What's new?
* Now available on iPhone and iPod touch
* New unlockable world with 8 more levels (and lots of pirates)
* Learn more about Nimbus with intro stories
* More comics
* More hats
* More achievements
* Bug fixes

Why this game is awesome:
* 4 gorgeous worlds to unlock (with 2 more to come!)
* Tons of challenging levels
* Simple and intuitive tap-and-swipe gameplay
* Unlockable achievements, including comics and wearable hats for Nimbus
* Dozens of animated characters
* Wonderfully original score

Device Requirements:
* iPhone 3GS, iPhone 4, iPhone 4S, iPhone 5, iPod touch and iPad
* Requires iOS 4.3 or later
* Optimized for Retina display
* Universal Application
* 49.6 MB

Pricing and Availability:
Negative Nimbus 1.1.1 is only $0.99 USD (or equivalent amount in other currencies) and available worldwide exclusively through the App Store in the Games category.

CloudKid: http://cloudkid.com
Negative Nimbus 1.1.1: http://negativenimbus.com/
Purchase and Download: https://itunes.apple.com/app/negative-nimbus/id564789474
Vimeo Video (Trailer)

 

Vimeo Video (Gameplay)

 
Sound like your kind of thing?  Download it and give it a try, then, and if you do, be sure to tell us what you think about it below!