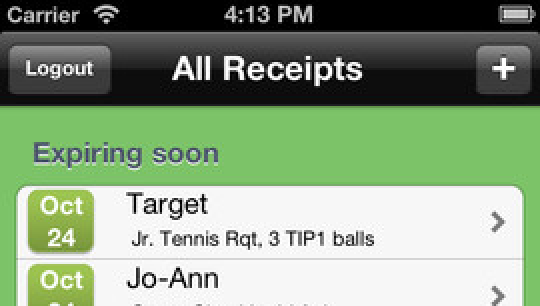 I don't think they're quite there yet, but I am very, very encouraged and pleased by the plethora of apps that have come out to help you shop.  More, I'm very pleased by apps that provide you discounts, coupons, pointers to deals, and the like.  Shopping is, for me, a major PITA, and anything that can help me both a) get it done and b) save some money is greatly appreciated.  (For example, the ability to scan the bar code on my prescriptions and then just automagically send in the refill request via an iPhone app is a huge, huge help in a family where we have a lot of prescriptions–I've mentioned my chronic post-surgical neck pain before, right?)
One of the big PITAs in shopping is returns.  Let's face it:  dealing with returns is not only not fun, it's often very difficult.  I know stores don't enjoy getting returns, but I've got to think that even they appreciate an app that makes it easier.  Like this here one:
Shoppers who are fed up with missing exchange or return deadlines, or are frustrated at losing their original receipts when they want to take an item back to the store, can now download the award-winning free app ReturnGuru and permanently put their worries to rest.

The latest version of the App also lets the users browse and review the return policies for all major retailers in US and Canada from within the App, a useful feature given the complex and changing return policies during the upcoming holiday season. Also, for every receipt that is tracked by returnGuru, the entire return policy for that store is readily available through a click of a button.

ReturnGuru, winner of both the TiE Oregon PitchFest and the Portland Startup Weekend, respectively, is a remarkable app that lets iPhone, iPad or iPod touch users take a photo of their original receipt. ReturnGuru then processes the receipt's data, applies the store's return policy, and sends the users friendly, timely reminders to let them know that the exchange or return deadline is approaching. And for online purchases, users simply forward their e-receipt via email from their registered email address, and ReturnGuru takes care of the rest.

Device Requirements:
* iPhone, iPod touch, and iPad
* Requires iOS 4.3 or later
* 7.4 MB

Pricing and Availability:
ReturnGuru, which has been described by users as "easy to use" and a solution that allows them to "never have to worry about carrying original receipts", is available now for Free on iTunes.

ReturnGuru Free 2.0: http://www.returnguru.com
Download from iTunes: https://itunes.apple.com/app/returnguru-free/id524617478
Download for Windows Phone: http://www.windowsphone.com/en-US/apps/1083c485-6bfc-4568-a8fe-124c083d66a1
Sound like a Good Thing to help with your return madness?  Download it and give it a try and, if you do, be sure to tell us what you think below!