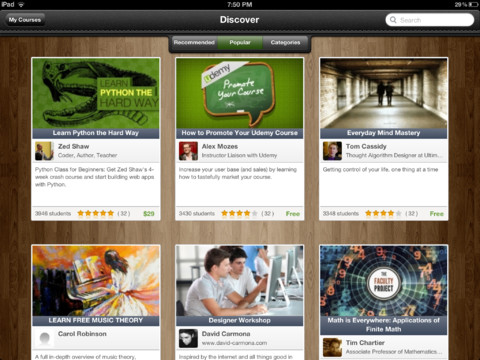 When the iPad first came out, one big target audience that your faithful Gear Diary scribe Carly Z (and other people too, of course!) identified as a potential huge market was in education.  I thought she was right and, although it took quite a while for it to pick up steam, I have to say that I'm pretty staggered to see the level to which iPads have penetrated the local school system here in my district in Austin.  Starting in 8th grade, almost everyone gets one (the 16GB model), and they use it for a staggering amount of tasks.  It's awesome, and certainly not as hard on them as trucking those giant backpacks full of textbooks around, either.
But of course kids aren't the only ones who use iPads fer learnin', and Udemy wants to help adults out in that area as well:
Udemy, the largest marketplace for online courses, announces the launch of its iPad app, giving students an easier way to learn skills wherever they go and making lifelong learning even more accessible.

In a recent survey, 90 percent of Udemy students said they took courses from the marketplace tolearn relevant skills that would help them advance their professional careers. Using Udemy, students learn the skills they need, such as Web Development, SEO and Photoshop. Now it's easier than ever for Udemy's user base of career-driven students to stay ahead of the curve and ensure their skills are relevant for today's marketplace .

Employers are more demanding than ever and professionals have to remain agile and learn quickly. That's where Udemy comes in, equipping students with an amazing lifelong learning environment and the knowledge they need to get ahead.

Udemy launched the iPad app so learning is always an option despite the demands of packed schedules at work and home. Instead of playing games on the long commute or on the couch, iPad users can use that valuable time to advance their careers by learning new skills. This downtime is now an opportunity for anyone to watch a lecture, participate in course discussion or absorb knowledge they can use.

Notable iPad app features include:

Watch on the go: Access to all video and audio lectures, presentations and any other course materials right from the app.
View offline: Save courses and watch them wherever students go. Learning is no longer confined to the classroom or students' desktop computers.
Engage from anywhere: Ask questions or start a conversation with instructors and other students while working within the app.
Discover new courses: Enroll in any course from Udemy's entire course catalog of more than 5,000 courses published by experts from around the world.

Udemy iPad users have access to world-class instructors like:

Lean startup guru, Eric Ries
Yoga expert, Sadie Nardini
Serial entrepreneur, Steve Blank
Corporate trainer, Mark Lassoff
The Udemy iPad app is available from the iTunes app store for an MSRP of Free.  Download it and give it a go and, as always, be sure to tell us what you think below!