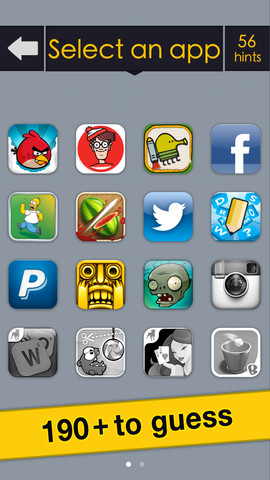 Most of us aren't old enough to remember–I know I'm not!–but back in the day, one of the biggest, most popular TV show formats was the quiz show.  Until there was a huge scandal over contestants being given the answers (and I highly recommend the excellent film "Quiz Show", by the way), quiz shows practically ruled TV.  (You have to remember that this was in the day of broadcast only, no cable, and only three networks.  Much easier to rule the roost in back then.)  Those days are gone, of course, but quizzes and quiz shows live on, and now of course in the smartphone and tablet world, you got you your quiz apps!
The Brightside mobile-game studio, has just announced the release of their first in a series of quiz games. If you know your Shazam from your SoundHound and your Fruit Ninja from your Facebook, Big App Quiz 1.0 will have you hooked from the first guess.

This game is simply intuitive, beginning with an opportunity for you to earn some hints by answering a question about their 'Big App of the Day'. From here you can get guessing – is it Angry Birds or Tiny Wings?!

When you get stuck you can use your hints to help you out, there are 3 available, two cryptic or factual and a third which is similar to Hangman. Alternately if you have no idea, there is the option to reveal. So don't worry if you don't know every app ever made!

Once you've guessed an app there is the option to download it from the App Store with just one tap. Making Big App Quiz not only a great quiz game, but also an excellent way to discover the best apps around.

With 6 stages and a total of 192 apps, Big App Quiz will have you guessing, downloading and enjoying apps from every corner of the App Store.

Device Requirements:
* iPhone 3GS/4/4S/5, iPad, or 3/4/5 Gen iPod touch
* Requires iOS 4.3 or later
* Universal app optimized for display on all iOS devices
* 21.4 MB

Pricing and Availability:
Big App Quiz 1.0 is free and available worldwide exclusively through the App Store in the Entertainment category.

Big App Quiz 1.0: http://www.neonplay.com/big-app-quiz.html
Download from iTunes: https://itunes.apple.com/app/big-app-quiz/id570676625
Been looking for something other than what my old programming teacher used to call "monkey games" (i.e., Tetris, Bejewelled, etc.)?  Maybe this is what you've been wanting.  It's available for free on the iTunes app store, and if you get it for yourself, be sure to let us know what you think below!