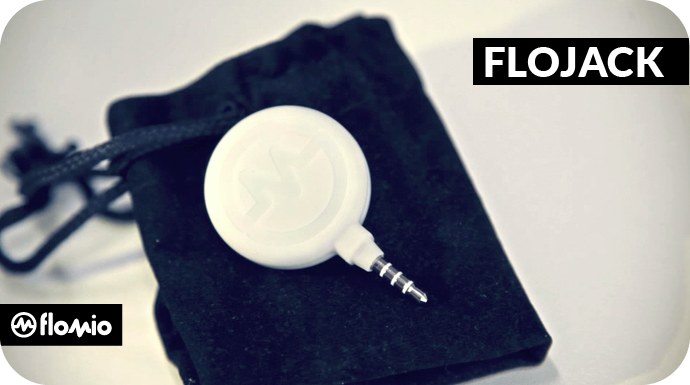 Even when I first started out in the tech world, it often frustrated me that here I was on one computer, and it was a comparative pain in the tuckus to transfer stuff over to that computer just a few feet away.  From a technical level, I always understood it–you had to have connectivity (be it wired or wireless), proper software, compatible file formats, etc.  But from a user perspective it was like:  It's right there!  Why do I have to go to all this trouble!  And nowadays, with practically every device in your house having either WiFi or Bluetooth (usually both), it seems especially lame.
Near Field Communication (NFC)  is a wireless technology that connects your phone to the devices around it, and this here Kickstarter project, FloJack, gives you the ability to talk to your other devices through NFC.
Project Title: FloJack – NFC Reader/Writer for iPhone, iPad and Android
Status: Active
Closing Date for Funding: 11/26/2012
URL of the Project: http://www.kickstarter.com/projects/flomio/flojack-nfc-for-ipad-and-iphone?ref=live
From the Creatives:  If you want to be a part of the NFC ("Near Field Communication") revolution, but refuse to give up your Apple iOS device then Flomio, a Techstars Cloud company, has a solution: the FloJack.  It's a first-of-its-kind NFC reader and writer that plugs directly into the iPhone (4,4S, 5), iPod Touch (4th, 5th Gen.), and iPad (New iPad, iPad 2, iPad 3).  It is available for preorder on Kickstarter.
FloJack is a tiny dongle that easily inserts into the 3.5mm port of the iOS device which then enables NFC.  NFC is similar to Bluetooth except it uses touch to create connections between your phone and the world.   Essentially, it is a wireless conversation between two closely held devices, and it has the potential to completely change the way we integrate technology in our everyday lives.
With Flomio's NFC Actions App, users can read or write an NFC tag or one of Flomio's ZAPPs to create a new experience.