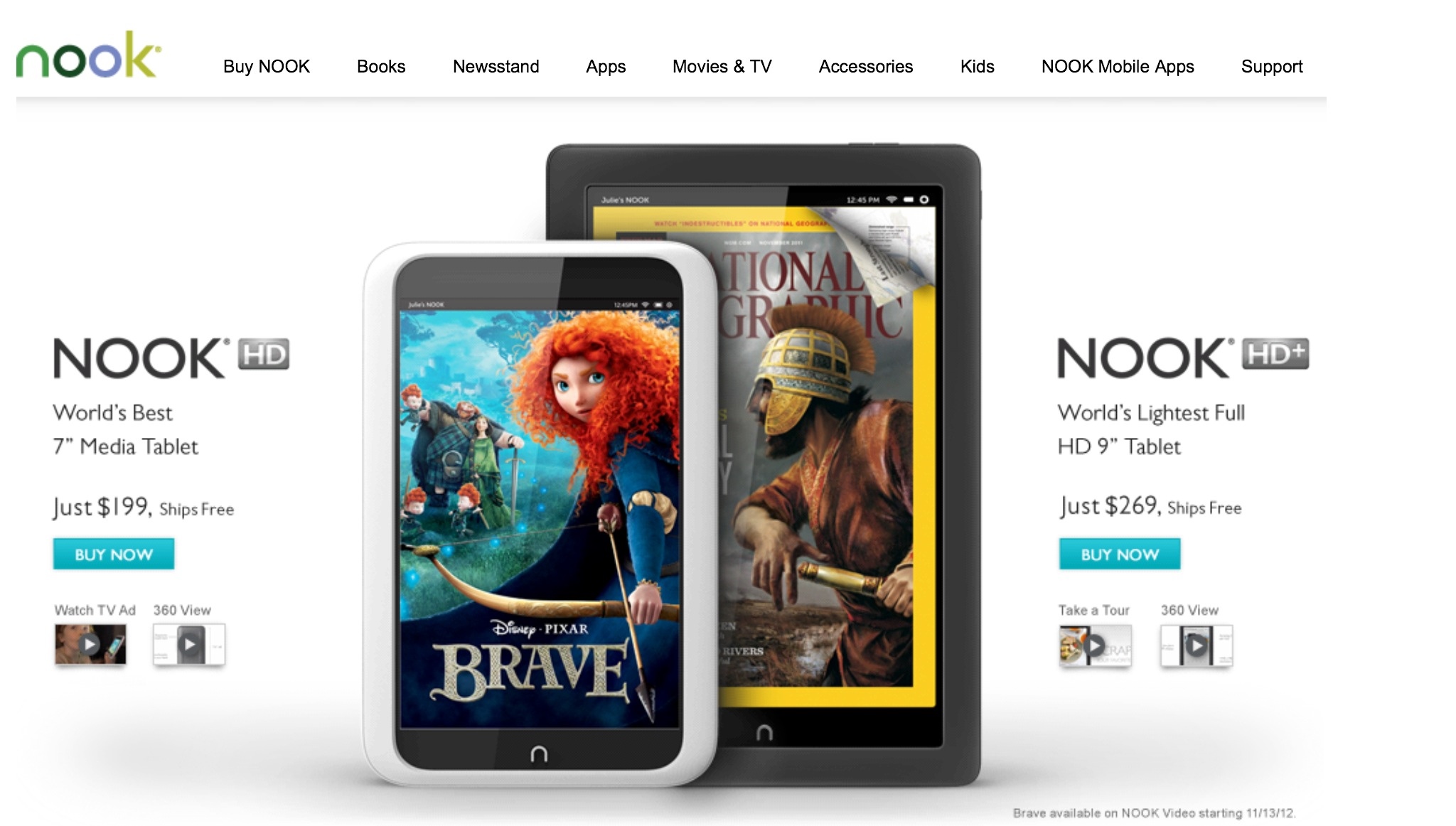 It's the holiday season, and that means you're on the hunt for the perfect gift for a loved one. If your giftee is a big reader, maybe you plan to get them a dedicated eBook reader or tablet this year. After all, prices have dropped and specifications have gotten better and better. But which one do you choose? And what kind of accessories should you stuff in that stocking? Read on for the Gear Diary eReader Gift Guide!
Barnes and Noble:
NOOK Simple Touch With Glowlight: Barnes and Noble's premier traditional ebook reader. It has a backlight screen, so you can read in the dark without holding a flashlight in your teeth, plus WiFi so you can find books on the go. And for only $119, it leaves room in your pocket for some accessories or a gift card as well!
NOOK Simple Touch: If battery life and a slightly cheaper price are more your style, and you don't need the backlight, Barnes and Noble still offers the plain NOOK Simple Touch (without glow light). It's a simple, solid ebook reader, and for $99 you can't go wrong giving this as a gift!
NOOK HD/NOOK HD+: Barnes and Noble started the media tablet trend with the NOOK Color, and by the third generation they've really created a polished product. Read books, play games, and even download videos (NOOK Video coming soon). The HD is only $199 for 8GB ($229 for 16GB) and the HD+ brings a bigger screen for only $269 for 16GB ($299 for 32GB).
NOOK Tablet: Again, if you're looking to stick to a budget, Barnes and Noble still offers the second generation NOOK Tablet for $159 for 8GB or $179 for 16GB. You're giving up NOOK Video and a higher resolution screen, but the NOOK Tablet is still an excellent media tablet. Stay away from the NOOK Color unless you're looking for the absolute cheapest option available. Even though B&N is still offering it, the Tablet or HD are significant enough jumps forwards to warrant picking up one of those instead.
Kobo:
Kobo Glo: Our friends in Canada aren't far behind B&N on the backlight ebook reader train, and their offering comes in at a competitive $129.99. Kobo has a much wider international distribution net than B&N, and they also partnered with the American Booksellers Association, so don't be surprised if you see their devices popping up in your local small bookstores soon.
Kobo Touch: Much like B&N, Kobo has a non-light up eReader that clocks in at a cheaper $99.99. Perfect for someone who just needs to read!
Kobo Mini: Want something small, budget friendly, and pocket-sized? Kobo has the perfect device in the Mini, the world's "smallest and lightest full featured ebook reader". And at only $79, it leaves plenty of extra cash for the most important part: buying books!
Kobo Arc: Unlike the NOOK HD and the Kindle Fire, the Kobo Arc is much more open with its Android underpinnings. This is a reading focused tablet running Android Ice Cream, so your app options are broad when you need a break from finally trying to finish "War and Peace". Only $199!
Amazon:
Kindle Paperwhite
: It took Amazon a while to respond to the trend of backlit ebook readers, but when they did they really came out swinging with the Kindle Paperwhite. It comes in multiple versions, both 3G (for $179), and WiFi (starting at $119). Note that all Kindle models have special offers sponsorship automatically included, and if you want a non-special offers Kindle, it costs an additional $30.
Kindle Keyboard
: Some people just can't get into the new touchscreen craze for ebook readers. For those readers, there's the Kindle Keyboard. It has physical page turn keys as well as a physical keyboard to make searching for books and making notes easier. Plus, it has free 3G for only $139 ($159 without the special offers).
Kindle
: Bringing up the rear in the Kindle reading lineup is the plain "Kindle". No touchscreen, no keyboard, just a simple, basic ebook reader. It's small but effective, and at only $69 with special offers, extremely budget friendly!
Kindle Fire HD 7″
: The original Kindle Fire was a success, but despite being a big seller it was a bit undercooked at first. The new HD has supposedly ironed out all the kinks, and provides a full-fledged media platform for books, music, movies, and games. Add an Amazon Prime membership ($79/year) and thousands of free movies and television shows are yours for the streaming. Fire HD starts at $199, and Kindle Fire HD 8.9″
is a larger screened version for $299.
Kindle Fire 7
: This is becoming a theme, but the patriarch of the Fire family is still available at a reduced price, $159. It may not be HD like the new Fire, but it's still a capable media tablet, now at a lower price.
Kindle Fire HD 8.9″ 4G LTE Wireless
: Looking for the most tricked out Kindle Fire you can find? That would be the Kindle Fire HD+ 4G LTE, though it's ok to shorten it to Kindle Fire 4G (otherwise you'll spend all day just saying the name). The benefits take a bit of explaining: you can pay $49.99 once, and get 250MB of LTE per month. If you need more, Amazon offers other data plans as well. The price is a bit steeper, at $499 for 32GB, but it does clock in as cheaper than competitors (like the iPad…)
Accessories:
Sleeve style cases: If you like the feel of your naked eReader, and just want a simple case to hold it, there's a plethora of simple slip cases. I am a big fan of Timbuk2′s cases, Incipio protects your gear with the Sportzip, and those with finer tastes you can't go wrong with Oberon Designs.
Play-through cases: Speck makes a plethora of play-through cases, from the FitFolio to the Wanderlust and BookShield, so they have you covered with whichever style you like. If you're looking for something fancy, Sena makes two leather folios, and if you want to get really minimal, then you can protect your device with a simple skin from Bodyguardz.
Gift Cards: The only thing better than getting a new ebook reader for the holidays is a gift card to buy a bunch of books for it! Amazon, Kobo, and B&N all offer gift certificates in varying denominations, and these make a great stocking stuffer to go with that shiny new device!
Our picks:
We tried to present each of the dedicated eReader device and tablet options today, but we're an opinionated bunch here at Gear Diary. So what devices do we reach for when it's time to unwind with a good book? Judie, Dan, and I are all avowed Amazon Kindle users (both on Kindle devices and using Kindle software on our iPads or iPad minis), but Mike breaks the pattern and uses a Barnes and Noble NOOK. In the end, any of the stores might fit your needs well, as it comes down to what works best for each person. If you've been researching gift ideas for family and friends, and came to a clear preference on the device, let us know which one you decided and why!