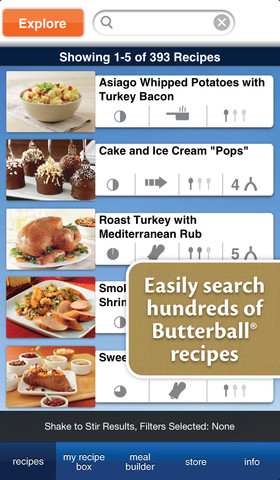 I have an odd relationship to cooking.  On the one hand, I seem to have a pretty good "feel" for cooking.  I'm one of those people who cooks like John Goodman's Paul Prudhomme character in that "anal-retentive chef" skit in Saturday Night Live:  "Next, you put in a honk a' butter, and then about this much red pepper . . . "  On the other hand, outside of my areas of comfort–gumbo, pasta sauce, pesto, fried fish–I'm very hesitant to try anything new.  Which is why cookbooks, especially around the holiday season–which is barreling down on us like the runaway train "Silver Streak"–are so key.  And being the iDevice era, now you can get those on your iPhone or iPad.  Yay!
Publications International, Ltd. (PIL), creators of the award-winning iCookbook(TM) app, are proud to announce the release of Butterball(R) Cookbook Plus.

For more than 50 years, the Butterball brand has been synonymous with holiday tradition. Today, America's No. 1 brand of turkey expands its line of poultry-related products into the digital world with the Butterball Cookbook Plus app. Just in time for the Thanksgiving holiday season, Butterball Cookbook Plus arrives, featuring hundreds of mouth-watering recipes for main dishes, salads, and sides that feature Butterball turkey or turkey products as their main ingredient.

Beyond recipes, Butterball Cookbook Plus also offers users the ability to save and store their own personal recipes, as well as access free downloads of new recipes from Butterball each month. Additional features include, iCookbook's hands- free Voice Command technology, which makes preparation a breeze as users can advance pages of their recipe without ever having to touch the screen.

Butterball Cookbook Plus also offers access to helpful how-to videos on topics such as choosing your turkey, roasting it, and carving it. And it features articles from Butterball experts with insights on roasting schedules, brining suggestions, a "Golden Thursday" checklist, and even the best way to deep-fry a turkey.

Butterball Cookbook Plus is the second app to be built on the iCookbook platform, following the Johnsonville Kitchens app released earlier this year.
The Butterball Cookbook Plus app is available on the iTunes app store for an MSRP of $4.99.  If you download it and give it a go, be sure to let us know what you think below!