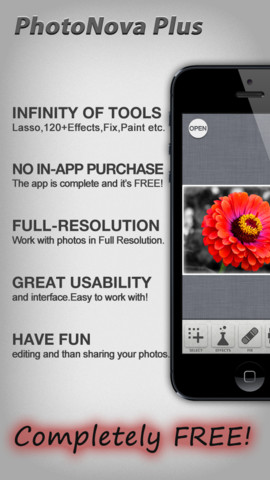 Back in the day, if you wanted to edit photos, or perform any kind of special effects on them, you were working with actual, honest-to-go physical film and photographic paper.  You would overexpose your shot, say, or your print, or smear (I'm not kidding) Vaseline on the camera lens, or sprinkle glitter on the film, or draw on it with magic marker.  (Still not kidding.)  But now, thank God, we've got computers and serious processing power and decent software, and it's way easier to do stuff like that.  No more magic markers.  Plus, some of those apps are (ahem) free:
Loran Dyrmishi today is pleased to announce the release of PhotoNova+, a photo editing app developed for iPhone, iPad and iPod touch devices. PhotoNova+ is a powerful photo editing app that let the user work in a simple and intuitive way. With PhotoNova+ you can enhance, edit, fix, paint and share your photos via social networks and email.

PhotoNova+ offers a fast and a high quality photo experience. The app enables a powerful photo editing workflow that includes the lasso tool, beautiful effects and frames,the fix tool and the paint tool to make your photos even more stunning.Work with your full resolution photos, every tool you use is automated.

Share your beautiful photos with your friends. And PhotoNova+ is completely Free. PhotoNova+ enables anyone to create amazing photos with a wide variety of innovative filters and tools. By combining filters,textures, frames and other enhancement, users can enjoy almost limitless effects. PhotoNova+ lets you use the lasso tool to select any part of the photo and apply an effect, filter or change the color/contrast/saturation or light.

Top Features:
* Works on iPhone, iPad and iPod
* Full Resolution Photos
* Over 120 Effects, Filters and photo Frames
* A Variety of effects and filters among these some advance effects like Laplace, Canny Edge, and the Morphological Operators
* Lomo , Black & White , Carbon, Inverse, Tones, Edge, Movie Effects, Rain layer, Dirt layer are some of the Effects
* 25 Frames to apply to your photos
* Marque Tool – Select with one of the tools a particular part of  the photo and apply any adjustment you like
* Fix Tool.Adjust the little imperfections on the photo
* Painting or write to make your photos even uniques
* Color Adjustment

Device Requirements:
* iPhone, iPod touch, and iPad
* Requires iOS 5.0 or later
* 29.3 MB

Pricing and Availability:
PhotoNova+ 1.0 is Free and available worldwide exclusively through the App Store in the Photo & Video category. Visit the App Store or go to our website to learn more and watch some beautiful works made only within the app.

PhotoNova+ 1.0: http://www.lndyrm.com
Download From iTunes: https://itunes.apple.com/app/id573677284
Been looking for a photo editing app, but wanted to start small (by which I mean, you didn't want to spend any money?)  Maybe this is the app for you; download it from iTunes and, if you try it out, be sure to let us know what you think below!