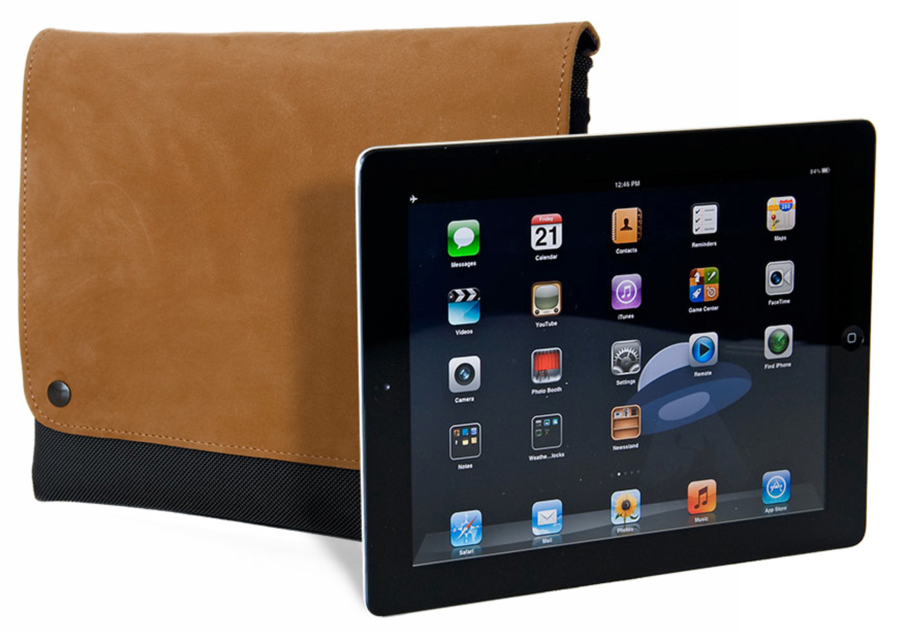 One of the worst things about selling my 11″ MacBook air after I traded up to the 15″ MacBook ProR was the fact that I could no longer use the Waterfield CitySlicker for 11″ MBA I had reviewed. When "ordering" the review sample I had designed a "loaded" version with a handle and D-rings. It was light. It was protective. It was great-looking. (Read the review.)
Now the company has announced a smaller version, designed to fit either the iPad or the iPad mini.
As they explain,
More than meets the eye. You'll find superior protection for your iPad 3, iPad 4, or iPad Mini in the dime-thin, compact CitySlicker. Three layers of protection—impact-resistant plastic + high grade neoprene + padded liner—keep the iPad safe and snug. Multiple pockets for essential accessories are smartly sewn and hidden under the rugged leather flap that snaps into place. A classic look.
What stands out for me is the fact that the CitySlicker can easily function as a protective sleeve but, with the addition of the handle and D-rings, it becomes a small stylish bag, too. The pockets beneath the flap can hold a phones and some other essentials, while the area along the back can hold some papers and other flat items you'll want when on the go.
The leather flap comes in distressed, naturally-tanned Black, Chocolate, Grizzly, Nubock, or Peruvian leather. The bag looks great, but is also quite functional. If you have an iPad or iPad mini, in order to lighten your load this is pretty close to the ideal accessory. And because it comes from Waterfield you KNOW it will wear well over time.
The CitySlicker for iPad starts at $99. The CitySlicker for iPad mini starts at $89. And while that might seem pricey, Waterfield's products are a great example of how "you get what you pay for". Learn more and place your order here.