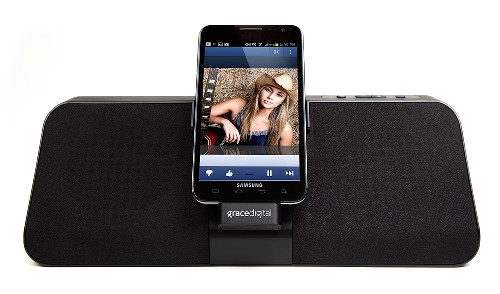 One of the truisms of the 'smartphone era' of the last five or so years is that you can get pretty much any sort of accessory made to work with an iPhone, but have to hope that you can find ANYTHING that will work with other phones. Some phones such as the Motorola Droid or Atrix got specific docks and the 'webtop' – but those were made by Motorola. In terms of audio, it was typically 'use the 3.5mm jack'. Fortunately, that finally seems to be changing.
The huge success of the Samsung Galaxy SIII and Galaxy Note II (as well as the single body type) have sparked a flurry of accessories never seen before for an Android phone, and now Grace Digital has released the gdock speaker system specifically for the SGS3 and Note II. Here are some details:
Grace Digital Inc., a leading brand of wireless indoor and outdoor audio solutions, announces the gdock Speaker Dock for Samsung Galaxy devices. Grace Digital's newest device features full-range stereo speakers with a built-in charging dock system for Samsung Galaxy S II, S III, Note I and Note II. Shipping today, the gdock Speaker Dock is available at GraceDigital.com and Amazon for $129.99 (MSRP).

Specifically designed for all of Samsung's "Next Big Things", the gdock Speaker Dock simultaneously powers, charges and plays audio from your Samsung device. The gdock comes with interchangeable station cradles for the Galaxy S2, S3, Note 1 and Note 2. Once docked, the devices can be rotated for vertical (portrait) or horizontal (landscape) viewing angles. Top panel buttons allow for volume and power control of the gdock, while the infrared remote provides easy cross room operation. Runs on AC power or you can opt for Grace's rechargeable lithium-ion battery for 12 hours of portable playing time (sold separately).

"Like iPhone and iPad owners, Samsung owners need affordable, high-quality accessories. The gdock allows the tens of millions of Samsung users just that," says Greg Fadul, CEO of Grace Digital Audio. "With the included interchangeable cradles, users get a secure docking experience regardless of Samsung device they use. Unlike most docks that just use the 3.5mm jack, Grace Digital has made a true speaker dock that not only enhances sound, but powers and charges the device while in use via the micro usb connector."

Grace Digital gdock Speaker Dock for Samsung Galaxy devices features include:

• Power, charge and play music from your Samsung device all at the same time
• Docking cradle rotates to allow for horizontal or vertical viewing angles
• Includes interchangeable cradles for Samsung Galaxy S2, S3, Note 1 and Note 2 and supports all carrier versions of the phones
• Two 3" full-range stereo speakers, 16W of total power and Class-D amplifier
• Top panel control buttons, infrared remote control and includes an AUX-in connection allowing the use of alternative audio devices
• Rechargeable lithium-ion battery sold separately

The gdock Speaker Dock for Samsung Galaxy devices is available today for $129.99 (MSRP).
The optional rechargeable battery will power the gdock for up to 6 hours, and for me it was a great decision to separate it out. For my family we would typically have the speaker set up in a stationary location, but there are also times we would bring it along. I suspect that for many it would sit on a desk or shelf or counter, so making it an option allows those people to save the extra cost.
Head to Grace Digital for more details. You can buy it there or through Amazon
for $129.99 (or less).