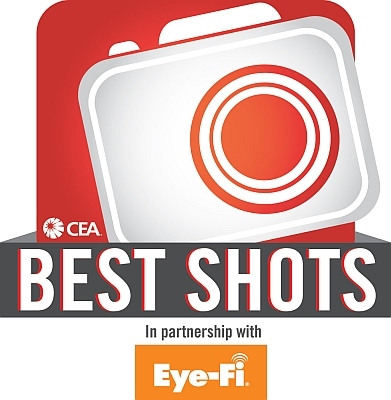 I like to flatter myself that I have a good "eye" for taking photos.  Like any young shutterbug, I spent a period of time thinking that I was the next Ansel Adams or Walker Evans.  Of course that didn't happen–turns out my talents are more verbal than visual–but I still like to take photos when the mood strikes me.  And so when I see a photography contest, I sometimes think, "Yeah, maybe I should enter that."  And maybe you're that kind of person, too, in which case:
The Consumer Electronics Association (CEA)® today launched its fourth annual digital photo contest in partnership with Eye-Fi, maker of the world's first wireless memory card. The grand prize winner, to be announced January 11, 2013, at the 2013 International CES®, will receive a Canon EOS Rebel T3i and an Eye-Fi wireless SD memory card. All photo entries will be displayed at the LVH in the PMA@CES exhibits at the 2013 CES, the world's largest innovation event. A slate of expert judges will select finalists in each category. Winners will be chosen via an online vote that will run from January 8 – 11, 2013.

Submission to the "Best Shots" contest will be accepted until December 16, 2012. Entrants can submit one photo in each of four categories: people, travel, pets and cellphone shots. Contestants can enter photos at CE.org/BestShots.

Prize packages are as follows:

One Grand Prize:

Canon EOS Rebel T3i with Eye-Fi Wireless Memory SD Card

Four Top Prizes (one camera winner per category):

Nikon Coolpix P300 with Eye-Fi Wireless Memory SD Card
Sony Cyber-shot DSC-WX150 with Eye-Fi Wireless Memory SD Card
Panasonic Lumix DMC-ZS20 with Eye-Fi Wireless Memory SD Card
Fujifilm FinePix F770EXR with Eye-Fi Wireless Memory SD Card

Five Honorable Mention Prizes:

Eye-Fi Wireless Memory SD Card

The explosion of digital camera options available in today's market has increased the number of images captured. According to CEA research, family, friends, natural scenery and pets are the top subjects photographed. Additionally, as smartphone household penetration grows, consumers are using their cellphones more often to capture spontaneous photos. Not only are they taking more photos, but they are also emailing photos to others and posting to social networks once they are captured.
You a budding photographer?  Or a grizzled veteran?  Or an itinerant photo snapper who would like to give a contest a go?  Well, surf on over and enter, then!  And if you win, be sure to tell us about it below!