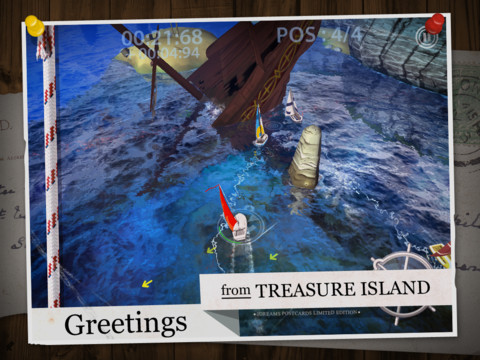 Despite living in the coastal town of Santa Cruz for over a decade, and the SF Bay Area for 25 years, I'm not much of a sailor.  Ironically, the only sailing I've ever done is off Cape Cod with my cousin Bill (Hi Bill!) in his smaller sailboat.  I really enjoyed it, but I've spent most of my spare moments engaged in other activities, like (say) raising my kids.  But I did enjoy it very much, and the graphics on this game look interesting enough to lure me:
Infinite Dreams, award-winning mobile games publisher informed today about the release of major update for Sailboat Championship, which is now available in the Apple App Store. The new version of the game offers unique gameplay, high-resolution eye-catching gorgeous 3D graphics, true to life physics and realistic sea sounds.

Other features include a new difficulty balance as well as tutorials and iCloud support to save your game data across all iOS devices. It is worth pointing out that the iOS version of Sailboat Championship is very popular on iPhone and iPad. The application was number one in the racing games section of App Store in 50 countries.

Full list of new features:

- Universal App (one build for smartphones and tablets)
- iCloud support
- Amazing graphics improvements (60 fps on high-end devices)
- Tutorials (including 'how to sail' guide)
- Gameplay and AI tweaks (difficulty balance, new controls system)
- Optimization for iPad Mini, iPhone 5 and iOS 6.0

Pricing and Availability:

Normally, $4.99 USD, for a limited time is $1.99 USD (or equivalent amount in other currencies) and available worldwide exclusively through the App Store in the racing games category.
I don't know about you, but 60% off sounds like a pretty good deal to me.  So surf on over and check it out and if you get it, be sure to tell us what you think below!