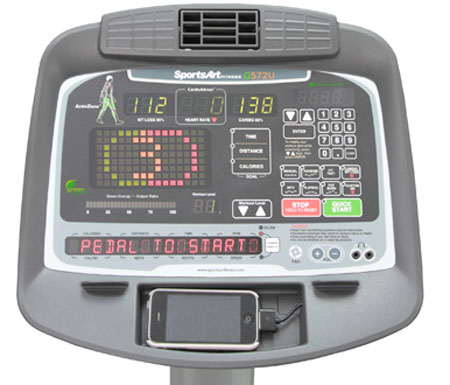 Sometimes when our aging Honda minivan is struggling up a hill or some such, I joke to the kids, "I should have fed that hamster more Wheaties", or "We need another hamster under the hood."  It's a lame joke, but you do what you can as a Dad, right?  But hey, what about all those people using elliptical trainers and treadmills and the like?  How different is that?  Well, the Ecofit folks had the same idea, and they have a line of systems that allows you to actually generate energy while you exercise:
The ECOFIT Networking System and Display will revolutionize usage of exercise equipment in clubs, fitness facilities, hotels, universities and schools. It's a system that shows users how much electricity they are producing on in-club digital media displays; allows for localized facility and environmental, "green" messaging on the display screen and includes a "points" accumulation system for energy created by the user. These points can then be redeemed at the club or a hotel, university or school with fitness facilities – building brand loyalty and user loyalty for the facility.

ECOFIT system users can also compare their points with other users in contests and competitions. The system is fully integrated with Social Media, includes accessible personal workout data (via the user's email address as the ID) and includes convenient iPhone applications. Users simply insert their ECOFIT card into the machine. Absolutely state-of-the-art with plug and play ease of use.

At the show, exercisers using the Green System will be able to enter their personal EcoFit data cards – which track exercise and energy points – for awards at the SAF booth. 

Using exercise to produce electricity for the power grid

With a "pod" of fitness products attached to an inverter that harnesses human-generated power from exercisers, the Green System produces electricity and feeds it back into the power grid as useable energy.

An industry first

The Green System joins an established line of eco-friendly fitness products offered by SportsArt Fitness. The launch of their ECO-POWRT treadmill five years ago offered club owners a treadmill that uses 32% less energy than the traditional club treadmill. SportsArt also offers complete self-generating ellipticals and cycles that require no outside power to operate. "The combination of our ECO-POWRT treadmill motors and our Green System ellipticals and cycles will save facilities thousands in energy costs," Ken Carpenter, Director of Sales for SportsArt Fitness said. "We welcome the entire industry to become more eco-conscious as we will continue to invest heavily into this crucial green initiative." SportsArt's Green System was recently cETLus certified for safety and available for purchase now.
So whaddya think; sound interesting?  Surf on over and check it out and, if you end up getting one of these babies, be sure to tell us what you think about it below!