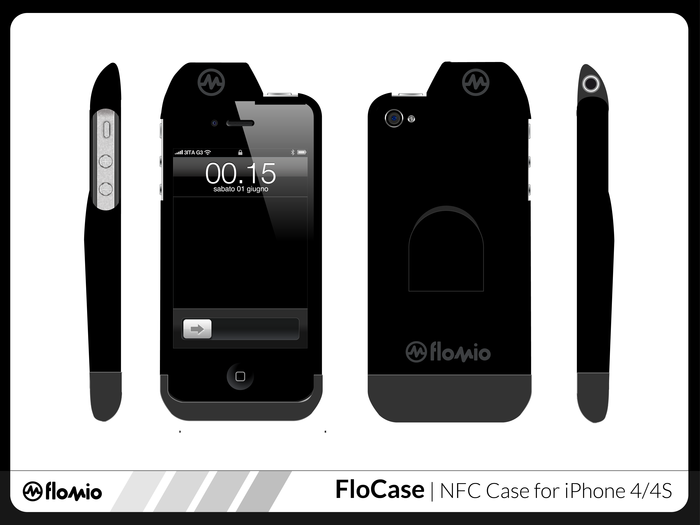 In the ordinary course of events, we here at Gear Diary don't usually tell you twice about the same Kickstarter project.  We don't have the time or space, and we don't like to repeat ourselves.  But in this case, this is a pretty major addition to an ongoing Kickstarter project that we mentioned only a few days ago, so we thought you should know about it.
In brief, the guys who are developing the FloJack NFC plug-in device for iDevices have done something that I think is hella smart:  They've developed a case that does the same thing as the plugin device.  Which is funny, because when I was doing the FloJack piece in the first place I was thinking, "Huh, that sounds okay, but I'd rather have it in a case."  And bam, here it is!
Project Title: FloJack / FloCase – NFC Reader/Writers for iPhone and iPad
Status: Active
Closing Date for Funding: 11/26/2012
URL of the Project: http://www.kickstarter.com/projects/flomio/flojack-nfc-for-ipad-and-iphone?ref=live
From the Creatives: Flomio, a Miami-based TechStars Cloud 2012 company, hit the creative lab to develop a slim iPhone case that brings NFC ("Near Field Communication") to users.  Inspired by the Kickstarter community, Flomio listened to their backer's feedback regarding the current FloJack dongle design.  Soon after, the FloCase came to fruition.  Flomio is now offering the NFC-packed case as a new pledge level ($99) on their Kickstarter page.
TouchTip Design
Right now, with most phones, to scan an NFC tag, you must position your phone flush against the tag's surface. You end up contorting and twisting your wrist in a strange and uncomfortable way, searching for the scan zone. Flomio calls that the "Wrist Twist." With the FloCase's TouchTip antenna, a sloped tip similar to a shark's nose, the NFC touch becomes a natural movement, simply an extension of your fingertip.
Rubber Case Lock and Exterior
The FloCase will be crafted from Polycarbonate material for durability and slimness. Metal would interfere with NFC transmission. Sustainable natural rubber, as opposed to silicon, will be used for added protection.  A case lock will also be created from the rubber material.  Using these materials, the user can easily slip the phone in and out of the case.  Flomios says it is much simpler than dealing with the hassle of interlocking pieces.
Coin Battery Well
The team at Flomio spent a great deal of time brainstorming ways to make this case slim despite the need for a battery.  The conductive touch points for the CR2032 attery are built into the case itself.   One side is embedded into the polycarbonate case, and the other side is built into the rubber battery flap.  The user simply inserts the coin into the battery well located in the flap, and plugs it into the case.
The FloCase is available now as a new pledge option on Flomio's Kickstarter page.  It is listed for $99.  At retail, the FloCase's MSRP is $129.99.
What is NFC?
When an NFC device comes close enough to a tag, a chip inside sends a stored message.  This little message then tells your phone to do something.  For instance, the Zapps can open apps, play music, or launch videos.  Users can even program the tags to give a friend directions, schedule a meeting or send reminders- just to name a few.
Additionally, new connections can be made between two NFC-enabled phones.  Users can digitally transfer content, photos, videos and more just by touching devices.