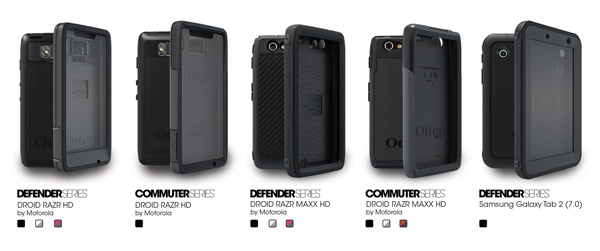 True story:  My Pop (my father-in-law, but since my dad passed away he's the only Pop I got) accidentally dropped his iPhone–a present from Sami and I–out of his truck while he was away on a job.  Using the iPhone "Find iPhone" utility, he was able to track it down.  Where, miraculously, it was still working despite the drop and having been left outside for several hours.  It was in an Otterbox case.
Yes, this is what the stats geeks like to call "anecdotal evidence".  But I'm sure that OtterBox has plenty of data for you to look at.  From my perspective all I know is:  When it came time to get an iPhone case for Joseph's new iPhone a couple of years back, I got an OtterBox case.  He's a teenage boy.  Need I say more?
Today's mobile technology is designed to keep the world connected 24/7. With batteries that last all day and lightweight designs to make carrying convenient, the DROID RAZR HD by Motorola (MMI), DROID RAZR MAXX HD by Motorola and Samsung (SSNL) Galaxy Tab® 2 (7.0) are go anywhere, do anything powerhouses. Keep these mobile machines safe with custom-fit Defender Series® and Commuter Series® cases from OtterBox®.

OtterBox Defender Series cases offer triple-layer coverage for smartphones and tablets. The rugged design starts with a built-in screen protector to keep display glass scratch-free. A sturdy polycarbonate mid-layer and silicone outer layer combine to keep the device safe from shock and drops, while silicone plugs over the access points keep out dirt and dust. An included holster-style swivel belt clip for smartphone versions allows for quick access and secure storage.*

The Defender Series is now available for the DROID RAZR HD by Motorola and theSamsung Galaxy Tab 2 (7.0); coming soon for the DROID RAZR MAXX HD by Motorola.

The Commuter Series brings streamlined, pocket-friendly protection to the DROID RAZR HD by Motorola and DROID RAZR MAXX HD by Motorola. A self-adhering screen film keeps the display free of scratches, a silicone mid-layer wraps tightly to the device and a thin, strong polycarbonate shell completes a durable, sleek design.**

For more information and to see why OtterBox is the No.1-selling smartphone case, visitwww.otterbox.com/1
Looking for a new case that gives you solid protection for your gizmo?  Surf on over and check it out.  And if you get one, as always be sure to let us know what you think below!