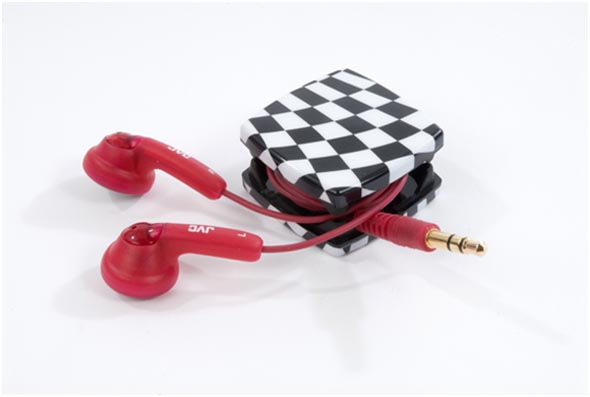 I have very, very mixed feelings about the whole "secret Santa at the office" concept.  For one, being as how I'm Jewish, the American assumption that everyone celebrates Christmas (and that you're a grumpy jerk if you insist otherwise) does get on my nerves sometimes.  And having it at your office, with people you may or may not even like?  Especially in high-tech, where a ton of my co-workers are not of U.S. origin to boot?  I dunno.
But the concept comes from a good spirit, and I totally understand that.  And there are definitely a lot of people who really get into it.  So hey, who am I to be the wet blanket on your secret Santa office parties, huh?  And with practically everyone these days having an iPod or iPhone, gear for that might be a good gift, right?
Are you Secret Santa for a co-worker using an iPod? Ever see them wearing a headset listening to their fav tunes at work? Now, watch closely when your giftee finishes with the headset. They carefully (or haphazardly) place (or stuff) it into a desk drawer, briefcase, coat or pants pocket, purse, or  backpack. Then next morning, again watch closely as they retrieve the headset and proceed to put it on and use it. Almost invariably it is full of twists and knots that take an annoying few minutes to untangle.

Once they have fussed with it enough to get it on their head and start the daily routine; again watch closely as they mosey around the office with headset wires billowing behind them. Either get out of the way or move your stuff out of the way. They can become the workplace irritant. And, when more than one headsetter is walking around the same area, it's an accident waiting to happen.

A very clever headset accessory is on the market to correct these messy cords and flailing wires. The Earbud Yo-Yo, an ingenious little iPod accessory, keeps headset wires knot-free and tangle free, locks down flying and flailing earbud wires, stopping them from getting caught on objects along the way. www.earbudyoyo.com

The Earbud Yo-Yo is available in 16 interesting skins and solid colors starting under $10. www.earbudyoyo.com/products.php

The Earbud Yo-Yo earbud organizer:
Can be easily stored and quickly located in purse or briefcase
Connects directly to the earbud, allowing for a customizable cord length
Locks onto the cord so expensive earbuds don't get lost
Organizes cords that have a microphone by winding the mic to the side
Is 1-1/3 inch square and weighs less than 8 grams
Sound like a good solution to your secret Santa dilemma?  Surf on over and check it out.  And if you do, be sure to tell us what you think below!